You want to travel but you are too busy to think make a plan for traveling ? Don't worry, Le Bouton will share with you some tips of discovering the whole Da Nang-Hoi An within 4 days 3 nights.
1. Way to Le Bouton:
Usually you will travel to Da Nang by direct flights or from Hoi An. Here are the transportation details and prices:
From Danang airport to Le Bouton :
          Distance: 6.9km
          Transportation to the hotel: Grab, Taxi, Le Bouton's private car.
          Price:
                   Grab car: 95,000 VND /4-seat car; 120,000VND /7-seat car
                   Taxi: 110,000 VND /4-seat car; 140,000 VND /7-seat car
                    Le Bouton's private car: 200,000 VND /4-seat car; 300,000 VND /7-seat car
           * You only need to book 12 hours in advance, the hotel driver will wait for you with a name tag at the airport.
           Distance: 30km
          Transportation to the hotel from Hoi An: Grab, Taxi, shuttle bus, Le Bouton's private car.
          Price:
                Grab car: 325,000 VND /4-seat car /way; 400,000 VND /7-seat car /way.
                Le Bouton's private car: 310,000 VND /4-seat car/way; 390,000 VND /7-seat car/way.
                Shuttle bus: 180,000VND /pax /way. Shuttle bus will pick you up at the old town or at your hotel in Hoi An and drop off at Hotel Le Bouton.
2. Details of Da Nang Discovery
Day 1: Hotel Le Bouton – Linh Ung pagoda – Hoi An
If you come to Hotel Le Bouton before check-in hour (14:00 PM), you should take advantage of this time to take a walk around Danang and enjoy Danang specialties such as pork rolls or noodles … The friendly staffs of Le Bouton will help you plan your route quickly and suitably basing on the weather and your condition.
In the afternoon, if the weather is nice, you should start your journey to explore Danang with a visit to Linh Ung Pagoda. Cuturally, this place is not only a religious destination of Danang local people but also known as one of the roads possessing the most beautiful sea views that tourists cannot ignore.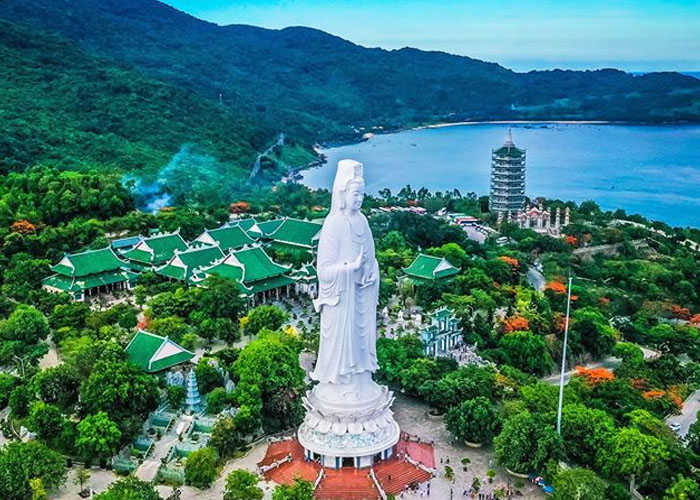 The remarkable point of this visit is the 67-meter-high statue of Quan The Am( a Buddha ) at Linh Ung pagoda. The Buddha statue is built nestled in the mountain and directly face the sea as a spiritual symbol protecting the city from storms. In addition, around the pagoda era, there are many trees and 18 majestic Arhat statues  arranged along the way to create a solemn and serene atmosphere for this place.
Distance from Le Bouton to Linh Ung: 6.1km
Entrance fee: Free
After visiting Linh Ung Pagoda, you will get in the car and continue your journey to Hoi An Ancient Town. Surely this place is no new to those who love to travel. Hoi An is a place where you can admire the ancient and rare beauty of ancient houses preserved after hundreds of years. Among them are the ancient houses of Tan Ky, the ancient houses of Phung Hung, the old house of Duc An …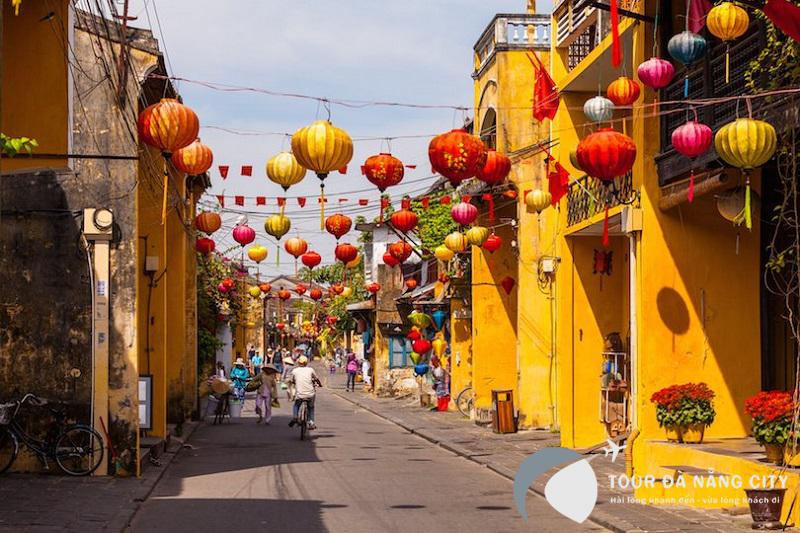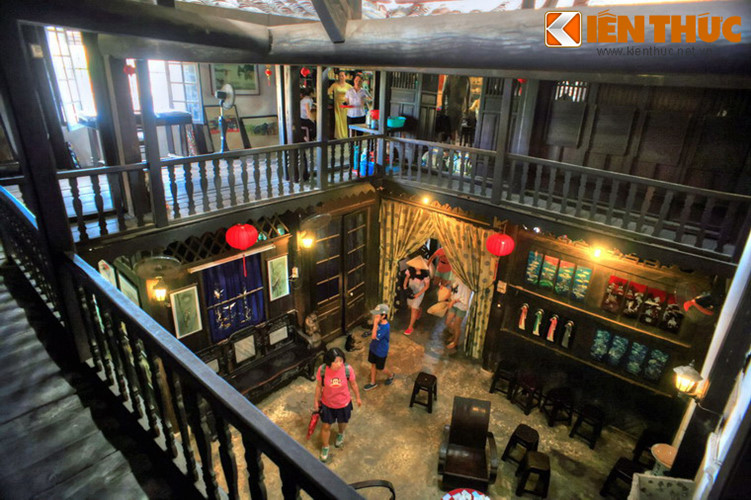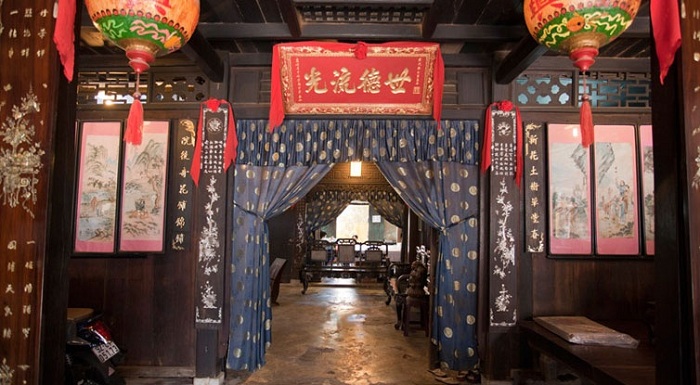 Not only the old houses, coming to Hoi An you can also visit many other unique works such as the Chua Cau built by the Japanese in the 16th century or the Assembly Hall built by Chinese traders including: Assembly Hall of Phuoc Kien, Assembly Hall of the Cantonese Chinese Congregation, Assembly Hall of the Duong Thuong, Assembly Hall of the Quang Nam, Assembly Hall of Chaozhou .These works were built when Hoi An was still the busiest commercial port of our country.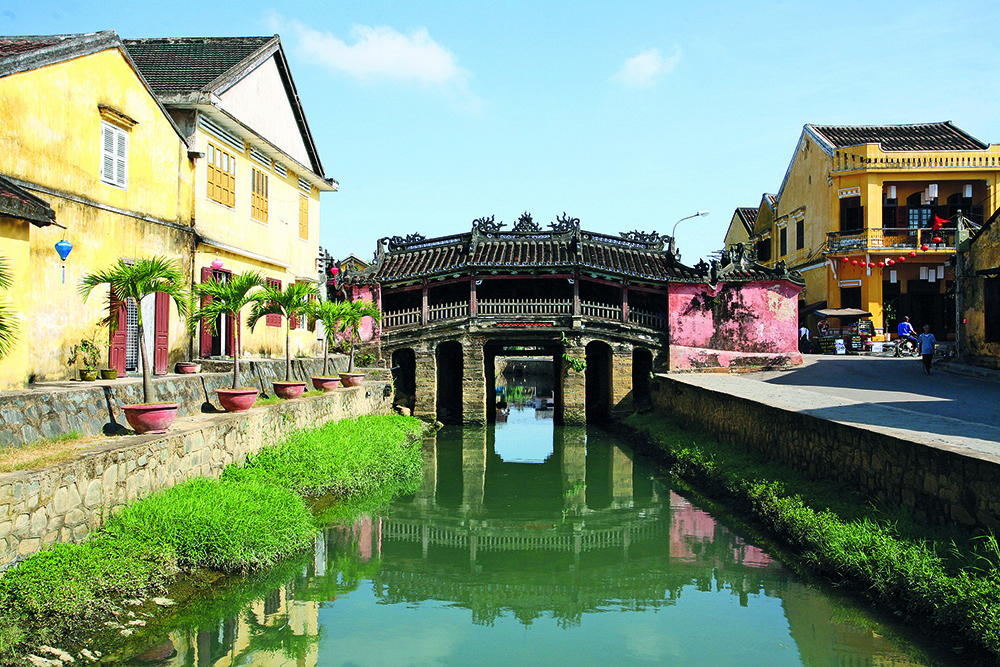 From the rooftop of cafes such as Faifo – 130 Tran Phu, The Chef – 166 Tran Phu, you can enjoy the scenery of Hoi An in the dawn or sunset with ancient  roofs and a quiet river. All blends together to create a very special gentle and peaceful feature of this city.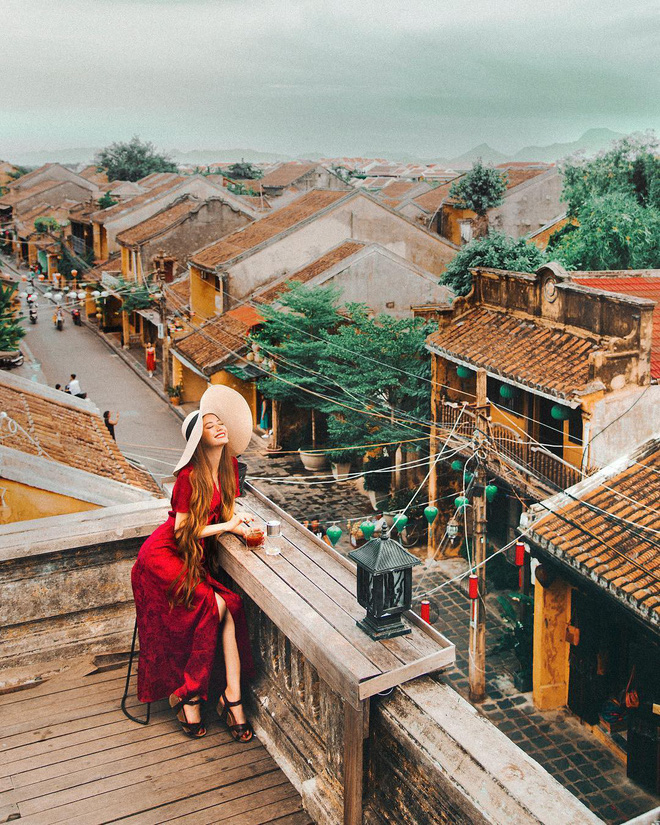 The Chef – 166 Tran Phu
After hours of go sightseeing in the ancient town of Hoi An, you can enjoy specialties such as Ba Buoi Chicken Rice – 22 Phan Chu Trinh, Cao Lau and Quang noodle  Ong Hai – 6A Truong Minh Luong, Banh My Phuong – 2B Phan Chu Trinh, Dumplings with cauldron – 533 Hai Ba Trung, Nuoc Mot, Pho Tau, delicious tea dishes…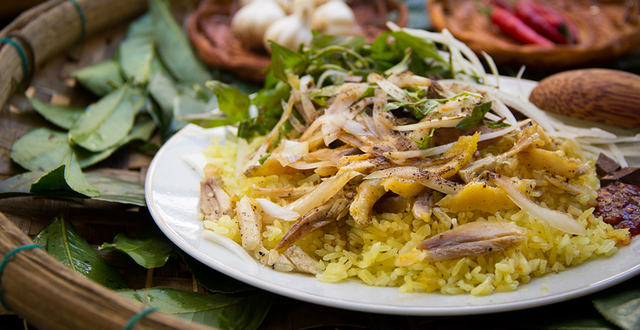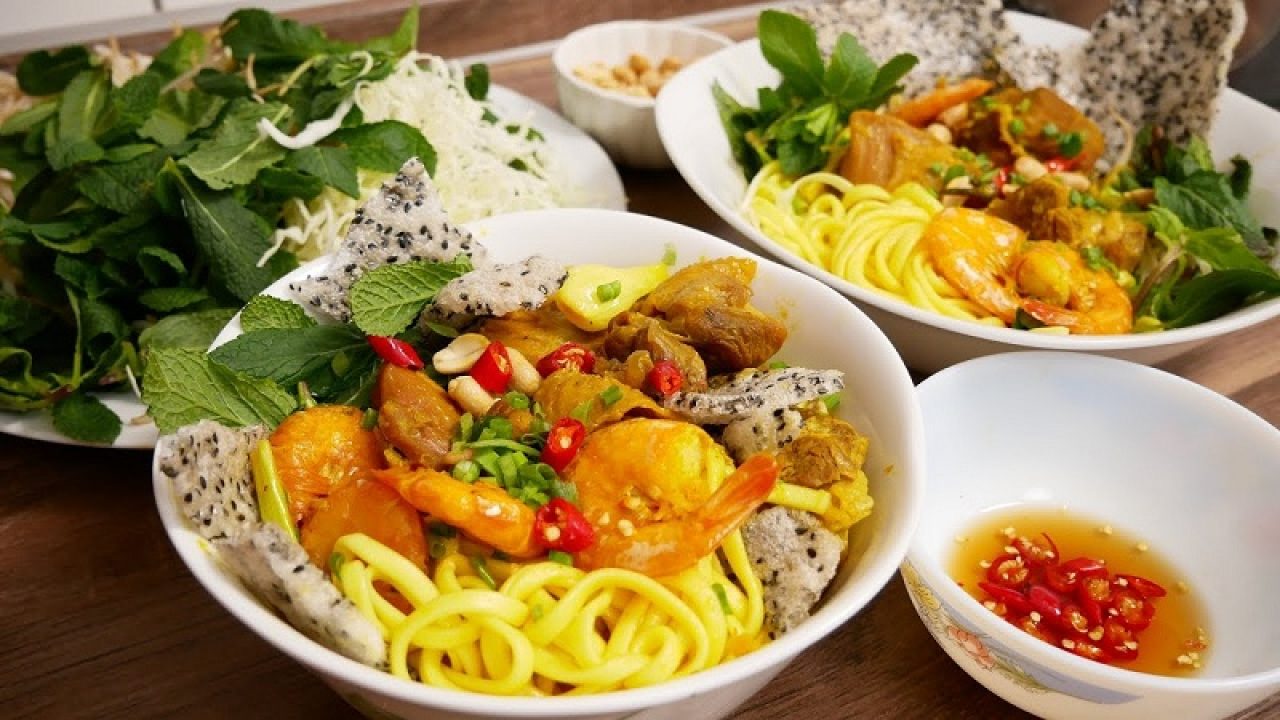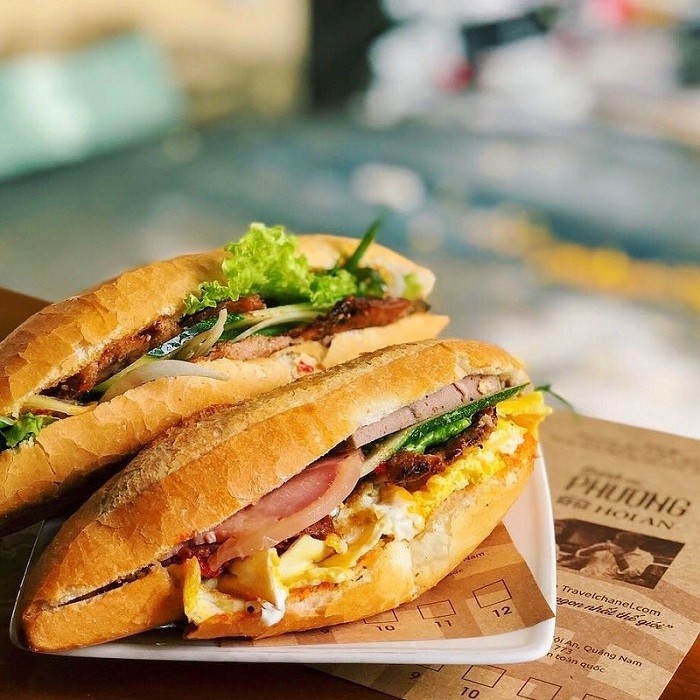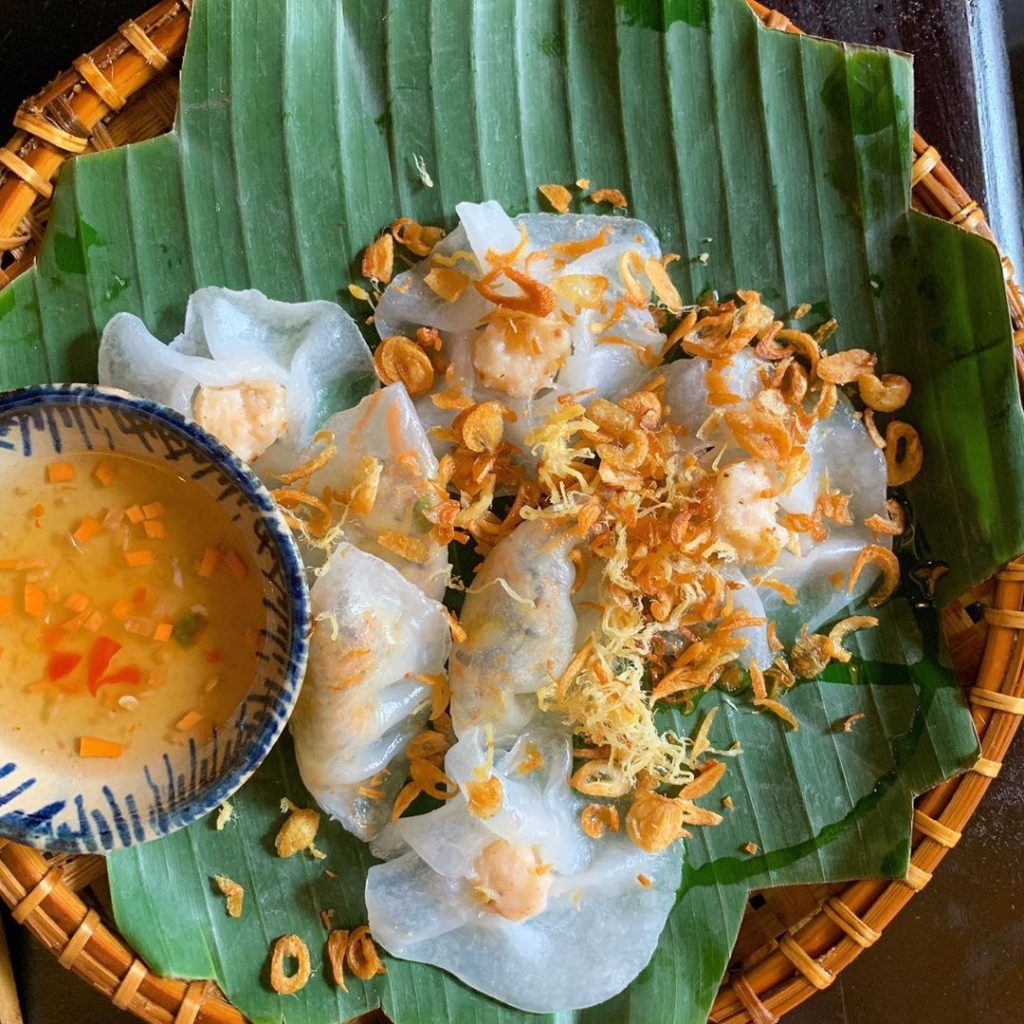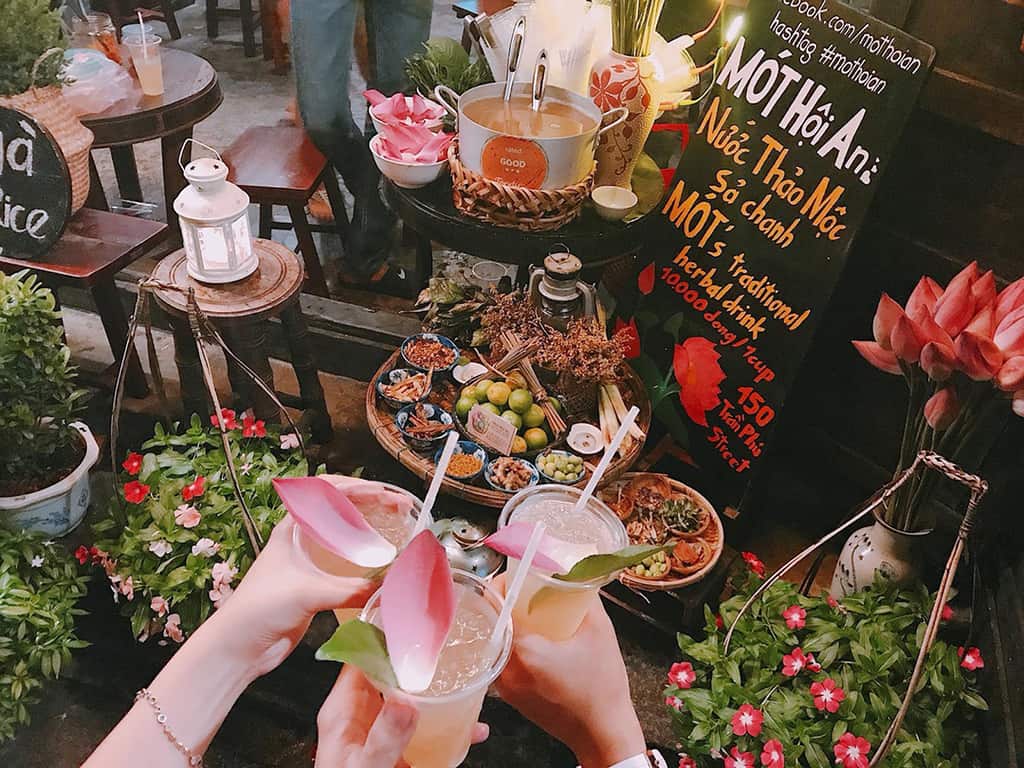 Distance from Le Bouton to Hoi An: 36km
Entrance fee: If you want to visit the cultural heritage buildings in the old town, you must buy tickets at the ticket counters and tour guides around the old town. The price for this type of ticket is: 80,000 VND/Vietnamese, 150,000 VND/international guest. If you are just walking through the streets and shopping there is no need to buy a ticket. In the evening you can visit Hoi An Impressive Cultural Park to watch the show "Memory of Hoi An". This is one of the biggest outdoor shows which are well-prepared. It is worth paying attention.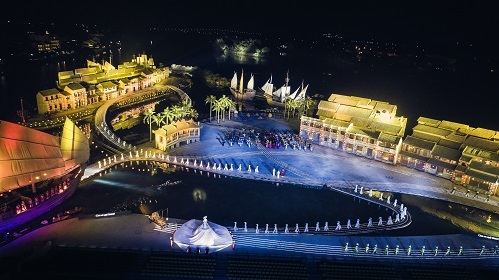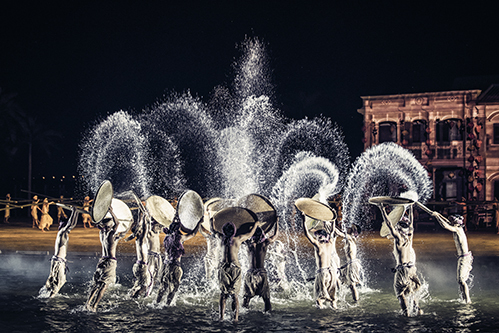 Place : Hoi An Impression Park
     Address: 200 Nguyen Tri Phuong – Cam Nam – Hoi An
     Price: 600,000 VND /pax
Day 2: BaNa Hills – Walking along the beach – Da Nang at night.
When you wake up in the morning, go down to Le Bouton's restaurant for breakfast. With a special local food, a refreshing cup of coffee and a bowl of yogurt custom-made by Hotel Le Bouton that will surely keep you energized to continue your journey.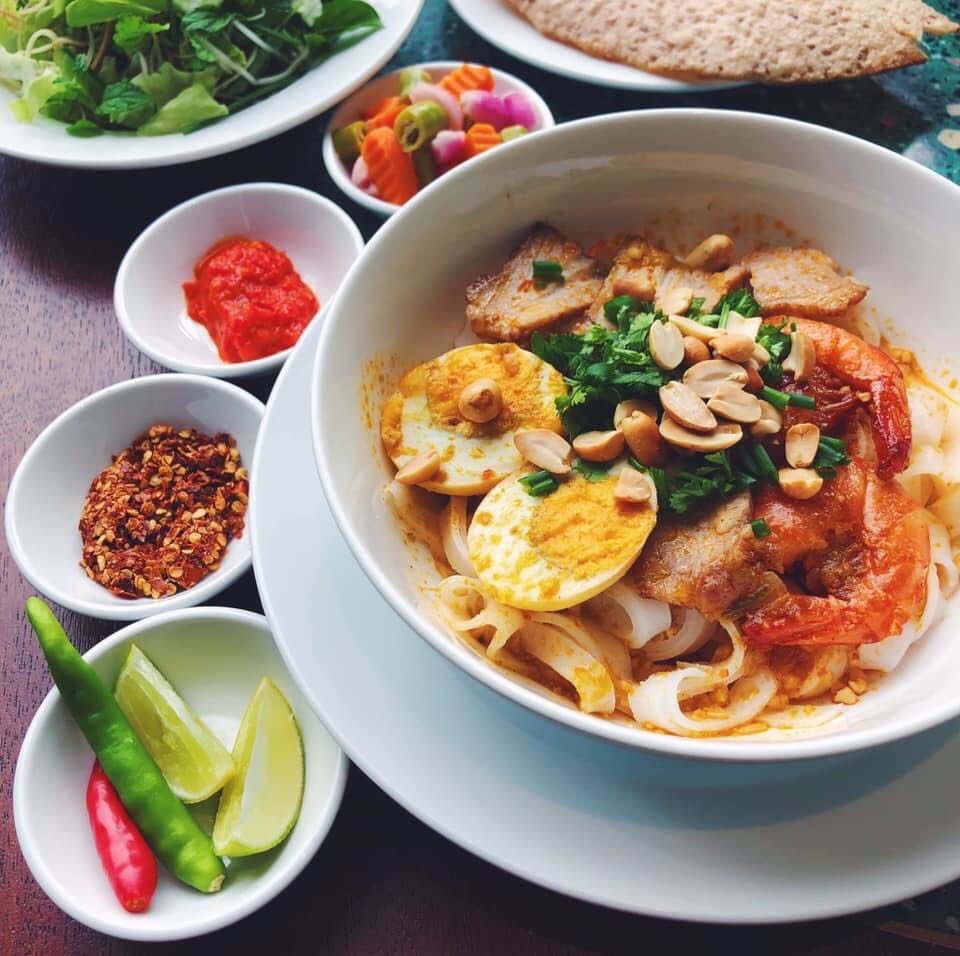 After breakfast you get on the car and depart for BaNa Hills. It is about 1 hour to travel from Hotel Le Bouton to there. Upon arrival, you will have to buy a cable ticket to start your Ba Na journey. This cable's route is recognized as the longest single-wire cable car in the world, with a route from the foot of Ba Na mountain to the top of Vo.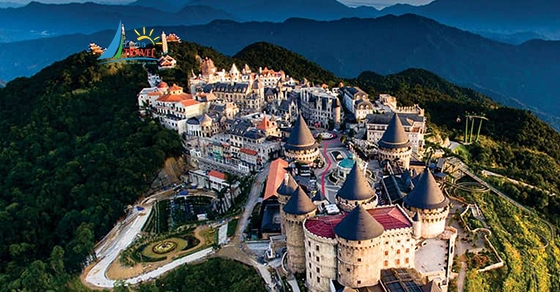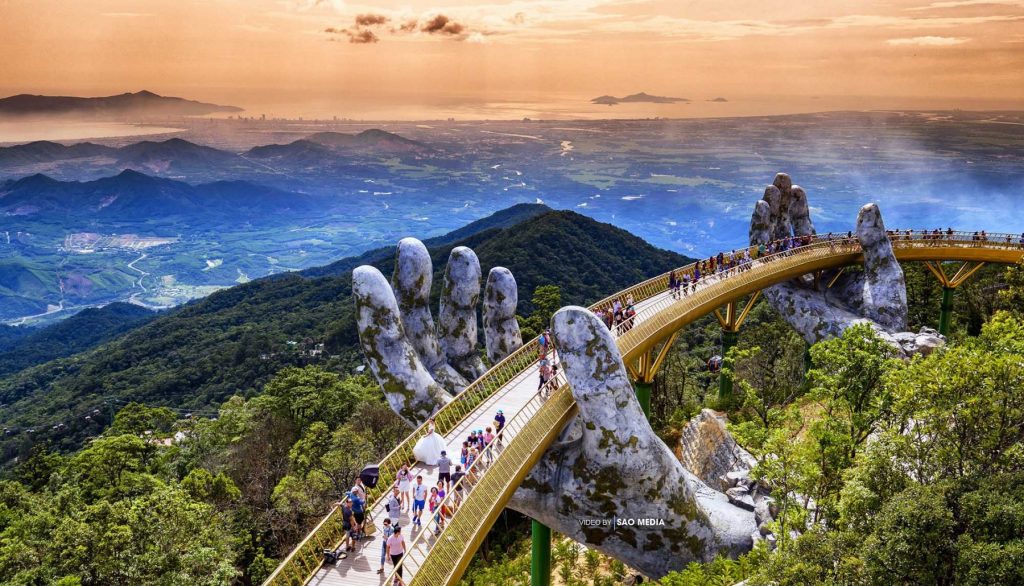 During the time of seating on cable, you will experience the feeling of floating in the air, watching the vast green of forests, waterfalls, rolling mountains… poetic scenes.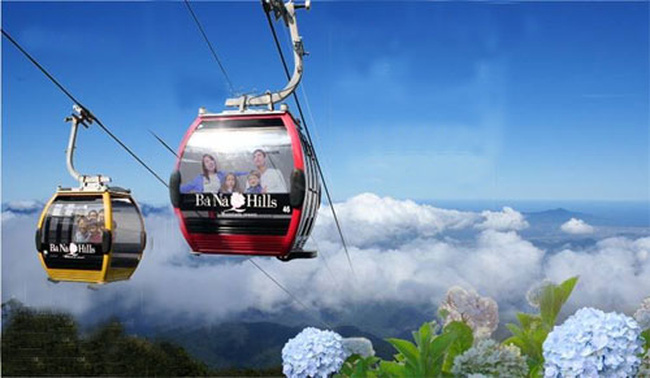 Coming to Ba Na Hills, you will be amazed by a complex with many diverse entertainment areas, restaurants and cafes. Besides the attractive entertaining parks, you can visit the wine cellar, Linh Ung Pagoda with the 27-meter-high Buddha statue or the romantic flower garden.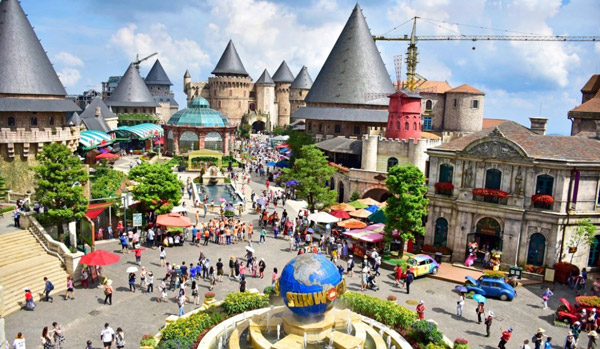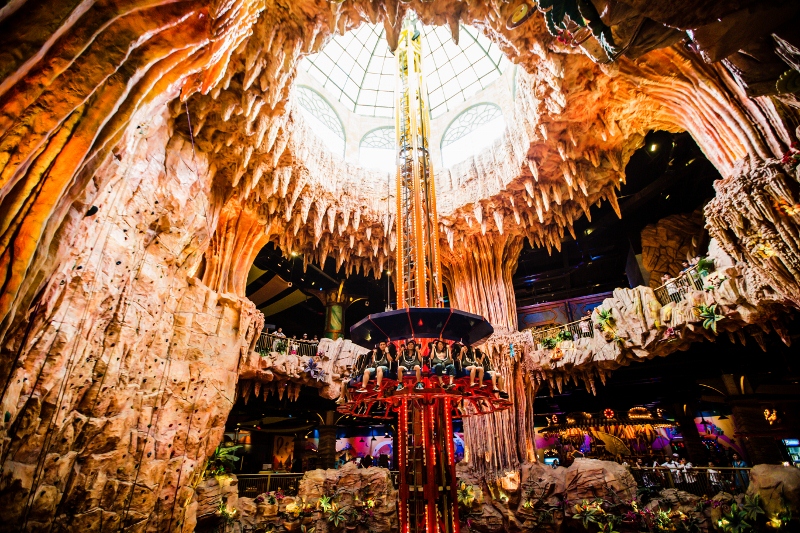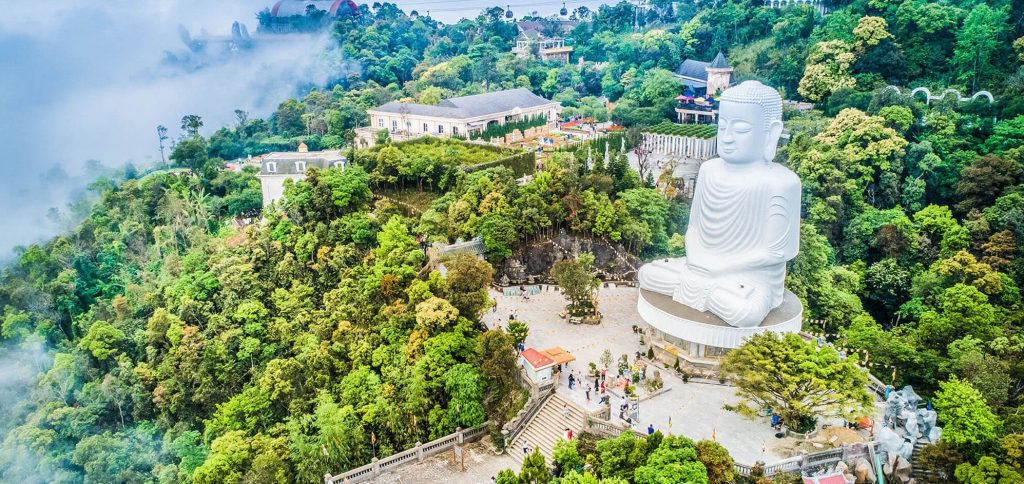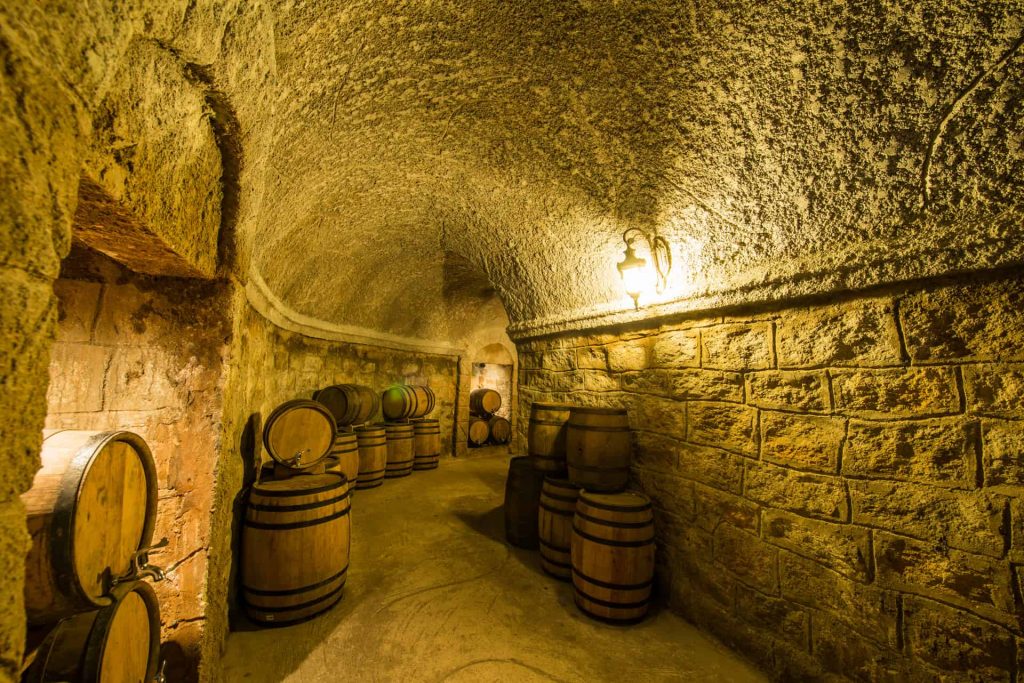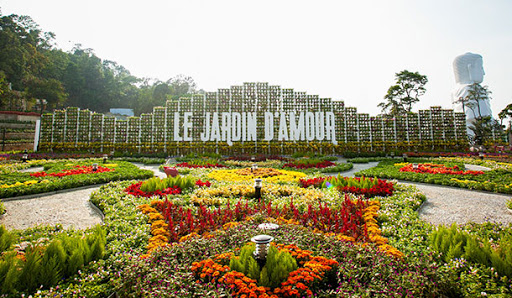 Distance from Le Bouton to BaNa Hills: 46km
   Entrance fee: 750,000 VND /adult; 600,000 VND /child from 1m-1.4m, free for children under 1m.
   You can start your Ba Na tour from 8am to 5pm then return to Hotel Le Bouton to change clothes and walk around Da Nang beach, participate in activities on the beach and swimming.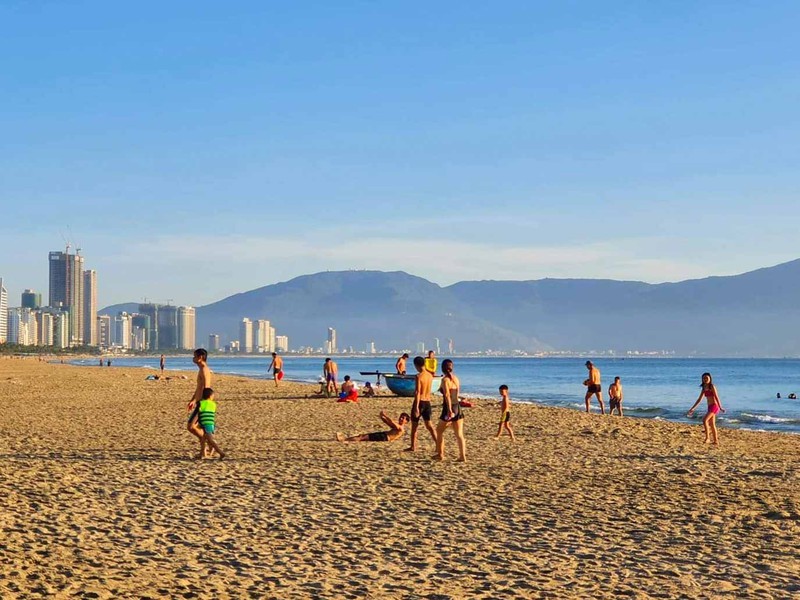 At night, you should rent a motorbike to enjoy local dishes and walk around the city to see the Love Bridge, the famous Dragon Carp statue or the famous Dragon Bridge of Da Nang. Watching the beauty of the city at night, you will feel the dynamic rhythm of this young city. You can also refer to our article NIGHTLIFE  PLACES IN DA NANG.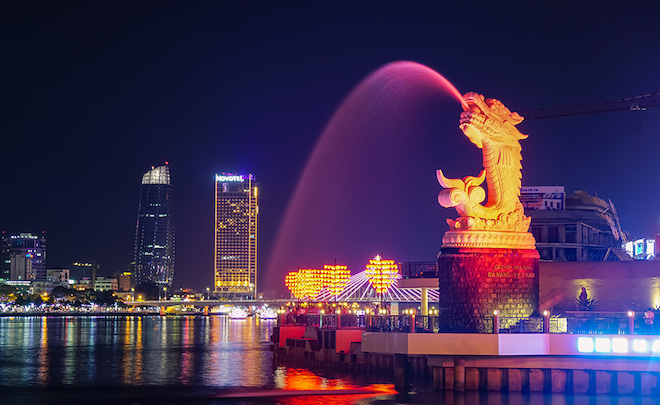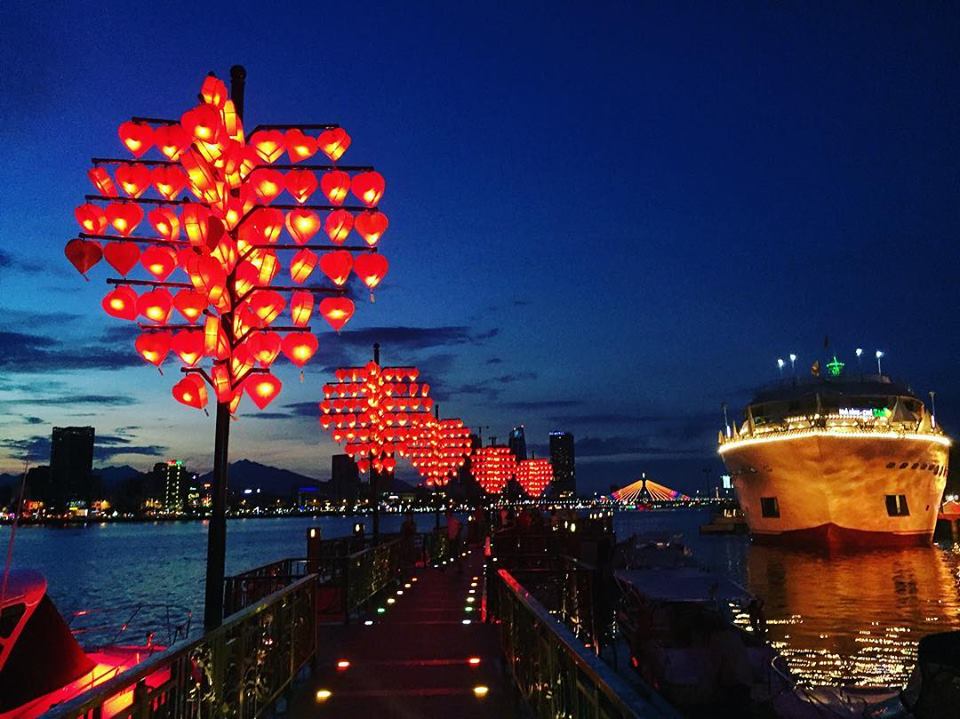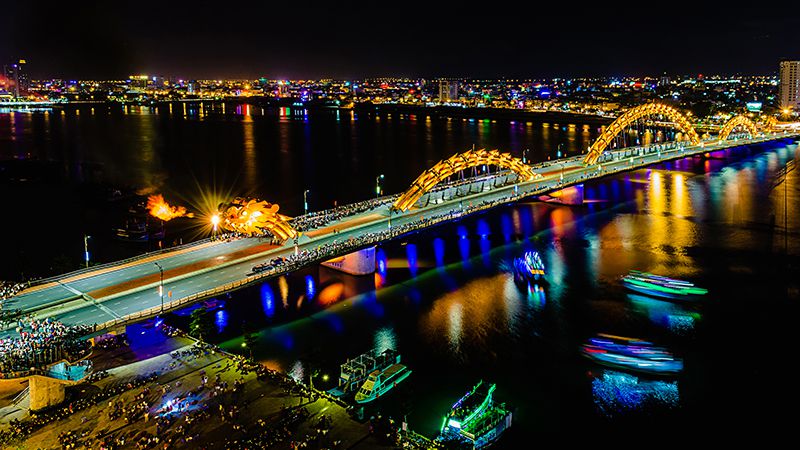 Day 3: Mable Mountain – City Center – Da Nang at Night
In the morning of the third day in Da Nang, you should take the time to go to the scenic Marble Mountains, a complex of 5 mountains named after the five elements in the theory of the five elements: Metal, Wood, Water, Fire and Earth with many mysterious caves. This is also the location of the oldest temple in Da Nang with the age of nearly 400 years, Tam Thai Pagoda.
You can visit Huyen Khong caves, Am Phu caves, Tang Chon caves, Van Thong caves,…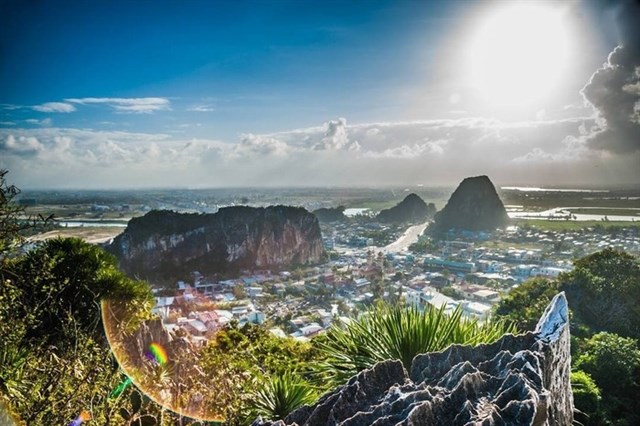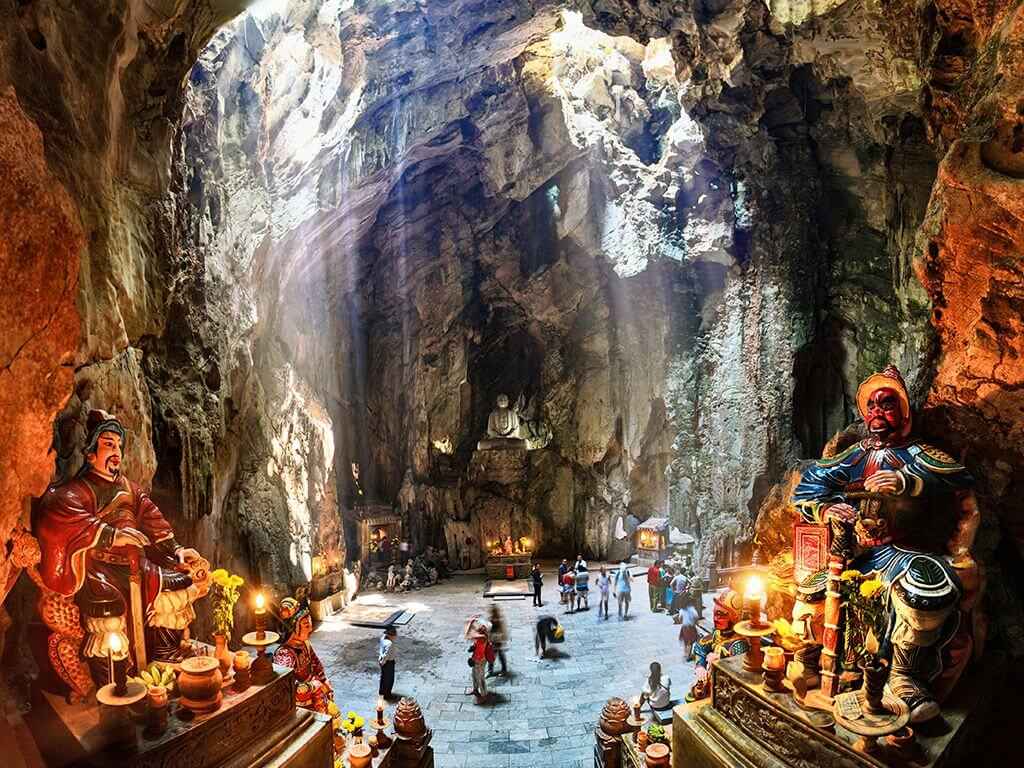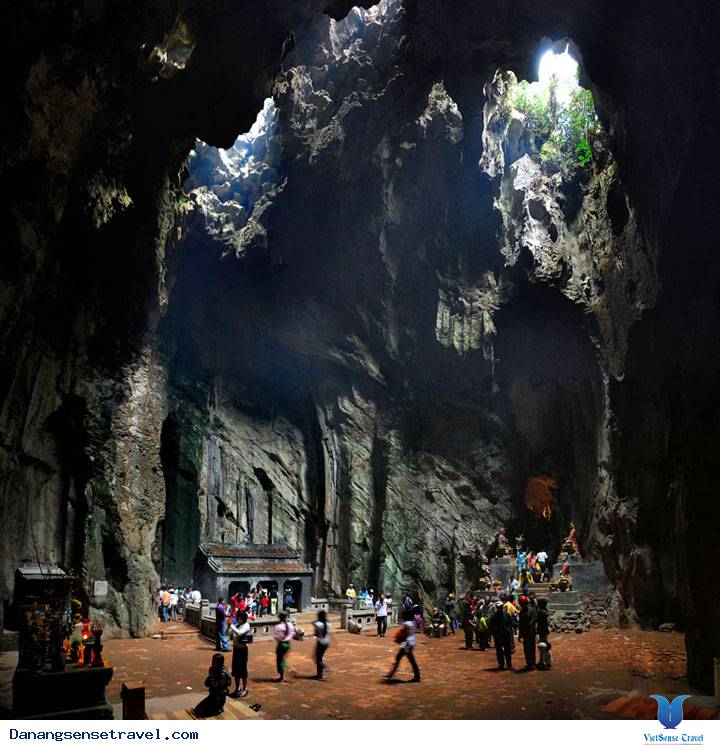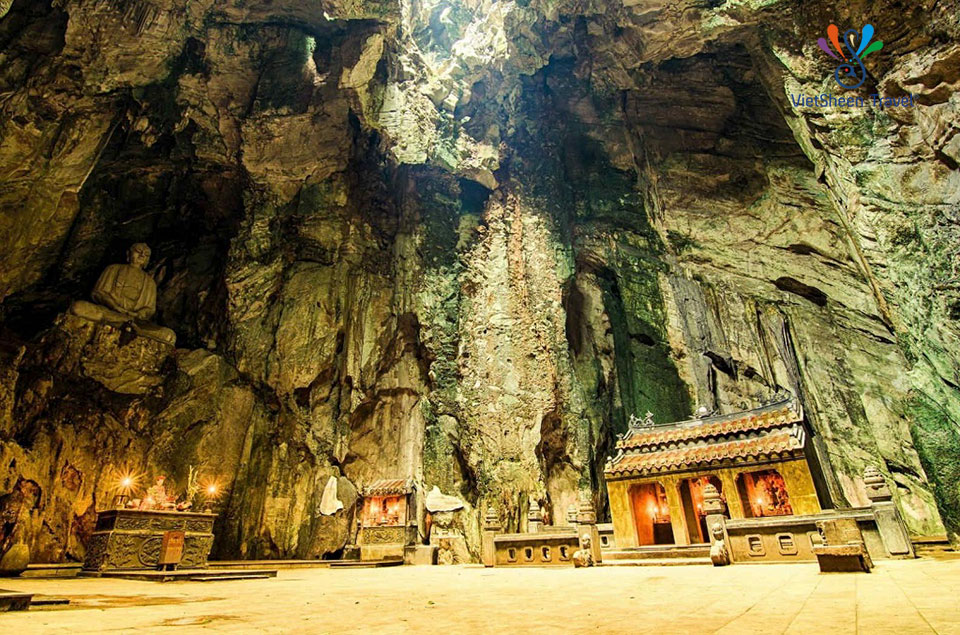 When visiting Mable Mountain, you should wear comfortable shoes and straps to move easily because you have to climb quite many steps.
    Address: 81 Huyen Tran Cong Chua – Ngu Hanh Son – Da Nang
    Distance from Le Bouton – Ngu Hanh Son: 9.5km
    Price: Visit 40,000 VND /pax, Am Phu Cave 20,000 VND /pax.
Usually you will spend about 2 hours to visit Ngu Hanh Son, although it is short, you will definitely need to rest because you have to walk quite a lot. You should visit the specialty eateries or coastal seafood restaurants in Da Nang for lunch and relaxation.
Continuing the afternoon journey, you can visit check-in locations in Da Nang such as "Chicken" Church -,  Da Nang 3D Museum, Cham Museum,…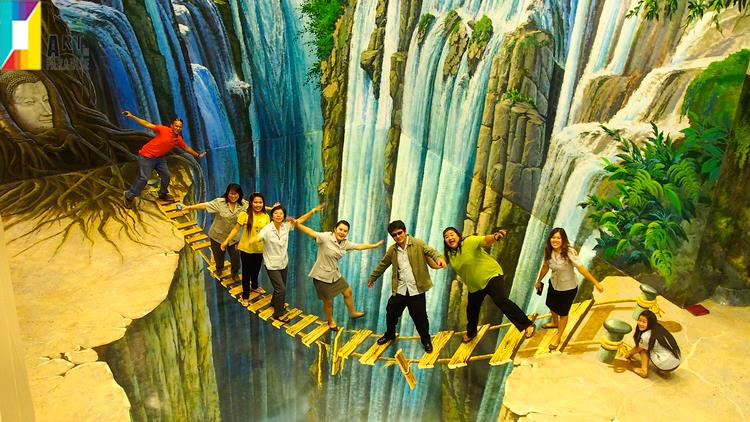 When night falls, you can enjoy the seafood or the local dishes here and then head to Asia Park. There are adventurous games and Sun Wheel where you can see t
Cham Museum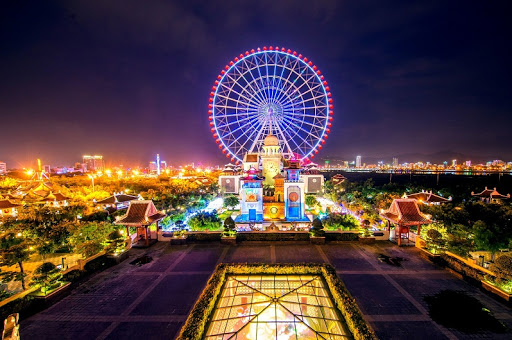 he entire city at night. Or take a train on the Han river to watch the sparkling bridges in the river. Especially if you go on Saturday and Sunday, you will admire the dragon bridge that get fire and water show at 21:00 – 21:15.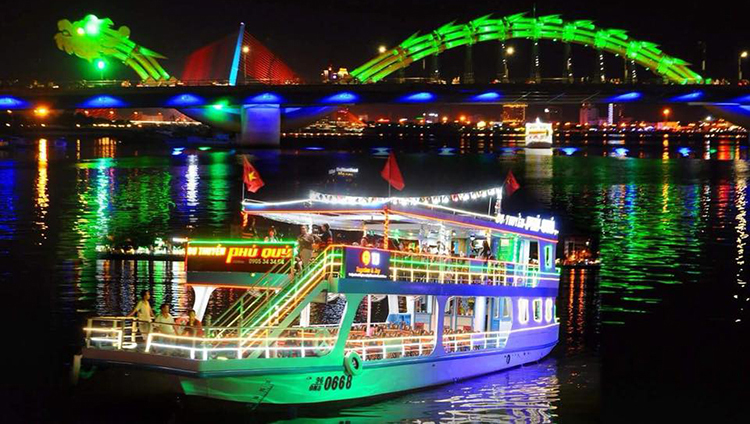 After 22:00 you can go to discos, bars, pubs in Da Nang to feel better at the vibrant life of this city. You can also refer to our article NIGHTLIFE  PLACES IN DA NANG.
Day 4: Watch the sunrise on the sea – Go to the market
It will be miserable if the last day of your trip to Da Nang is not for the sea. Join Sup rowing – a new sport that will help you have an exciting experience with Da Nang beach. You will be able to watch the sunrise on the sea and you will also be able to watch the coral reefs in Hon Sup.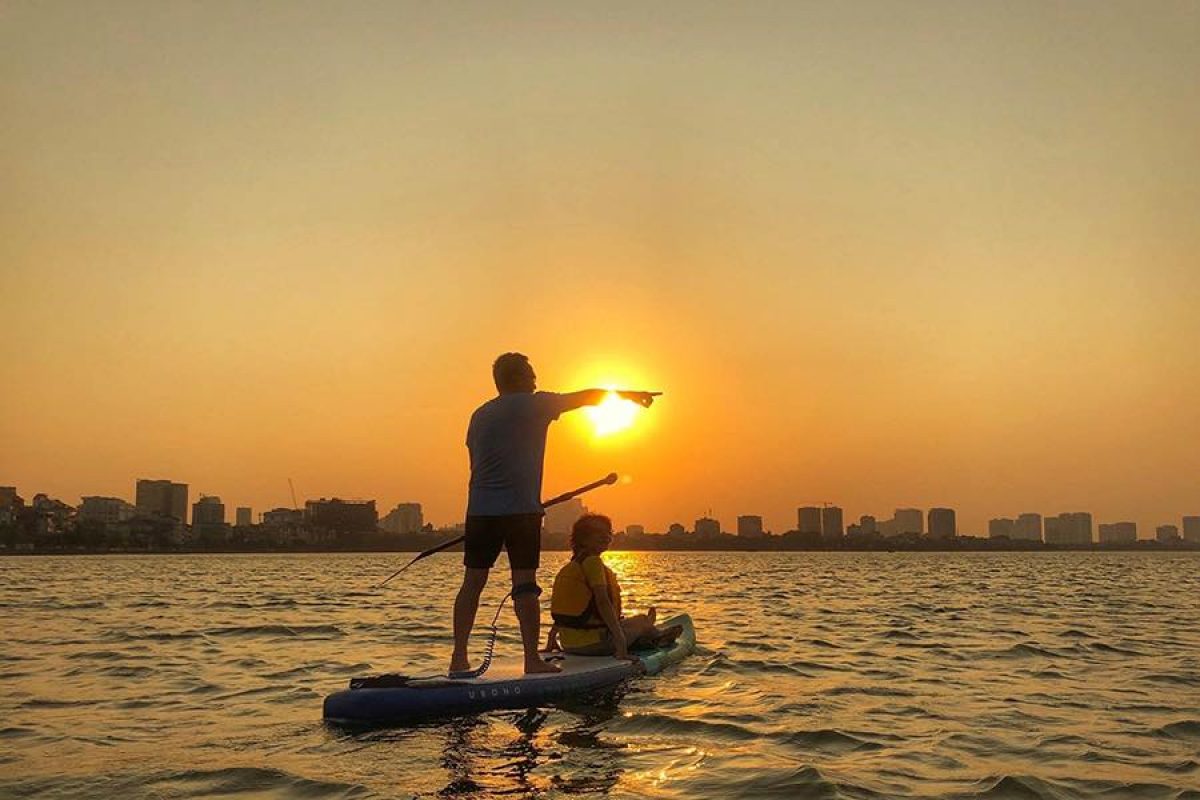 The last day does not have too much time, so as a recommendation, you should go to some places in the city. For example, Han Market and Con Market are famous markets with many beautiful specialties and souvenirs that you can buy as gifts for relatives and friends.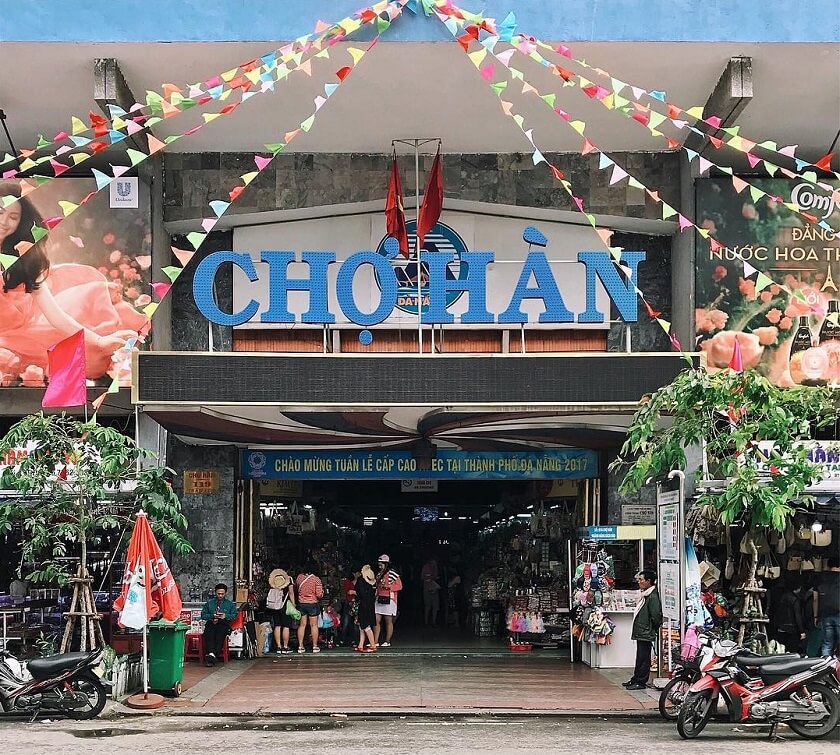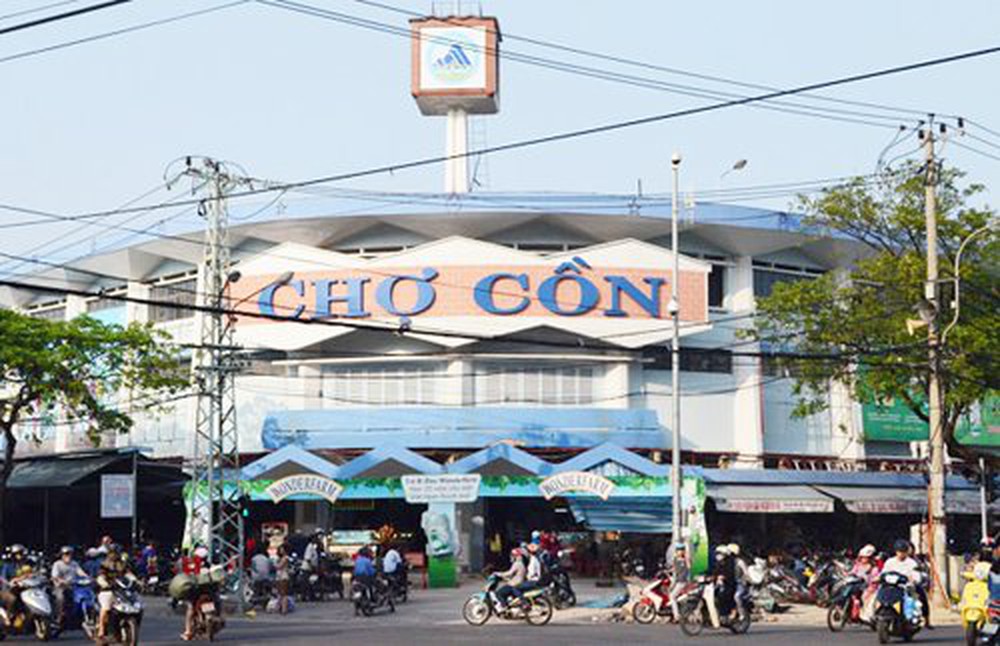 At the end of the journey visiting these markets, on the way back you can visit a specialty restaurant for lunch, then return to the hotel to pack up and check out.
Ending an exciting trip to Da Nang!
Hotel Le Bouton hopes that some of these travel suggestions will help you have a happy, impressive and memorable vacation in Da Nang.