When visiting Da Nang, you will not definitely ignore the beautiful sceneries to take photos. Le Bouton will help you find out the best check-in places to save your memories. Let's prepare your camera and impressive clothes for the coolest photos
   1. BaNa Hills
    BaNa Hills will be the first destination that you cannot miss when traveling to Da Nang. With the majestic natural scenery, combined with the extremely unique and impressive miniature French architecture, you will surely have a multitude of beautiful photos here.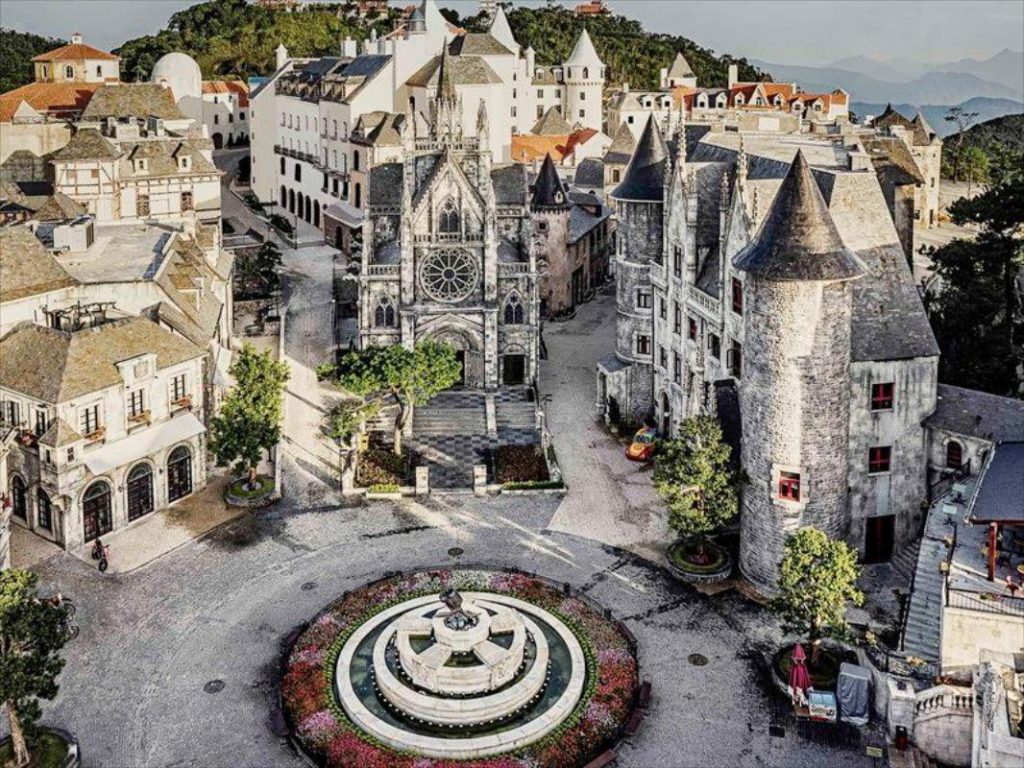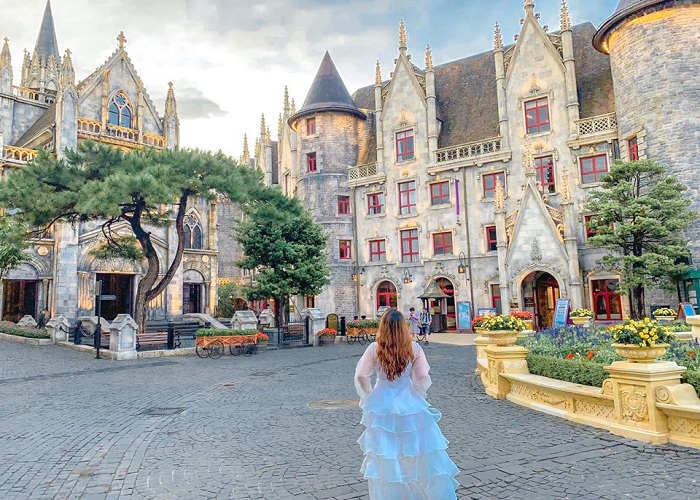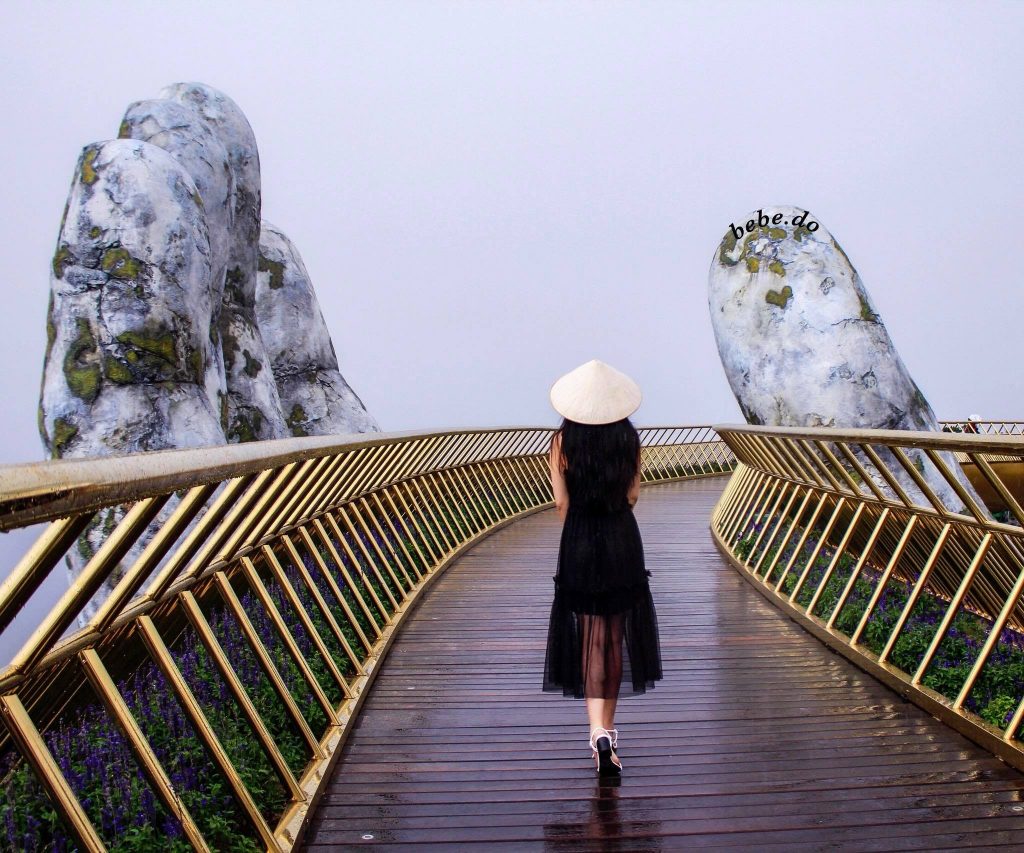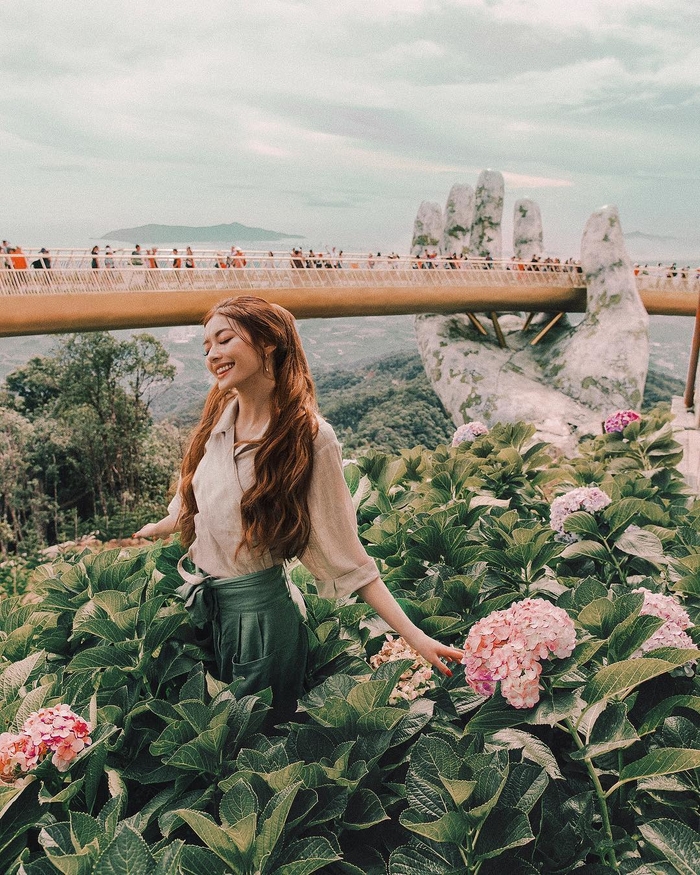 Coming to Bana Hills, you will have the feeling of being lost in a fairy-tale place. Especially, to have beautiful and unique check-in pictures at the Golden Bridge, you should stay overnight at Ba Na and wake up early in the morning to catch the sunrise here.
  A small piece of advice about the outfit is that Ba Na has 4 seasons within a day, so just bring a jacket with you.
 Address: Hamlet An Son, Hoa Ninh Commune, Hoa Vang District,  Danang.
   2. Bien Dong Sea Park:
    East Sea Park is one of the charming places to take photos in Da Nang. The attraction of this place is the large square with a lot of white pigeons raised here, so every early morning and afternoon, the pigeons hover around, creating a very romantic scene.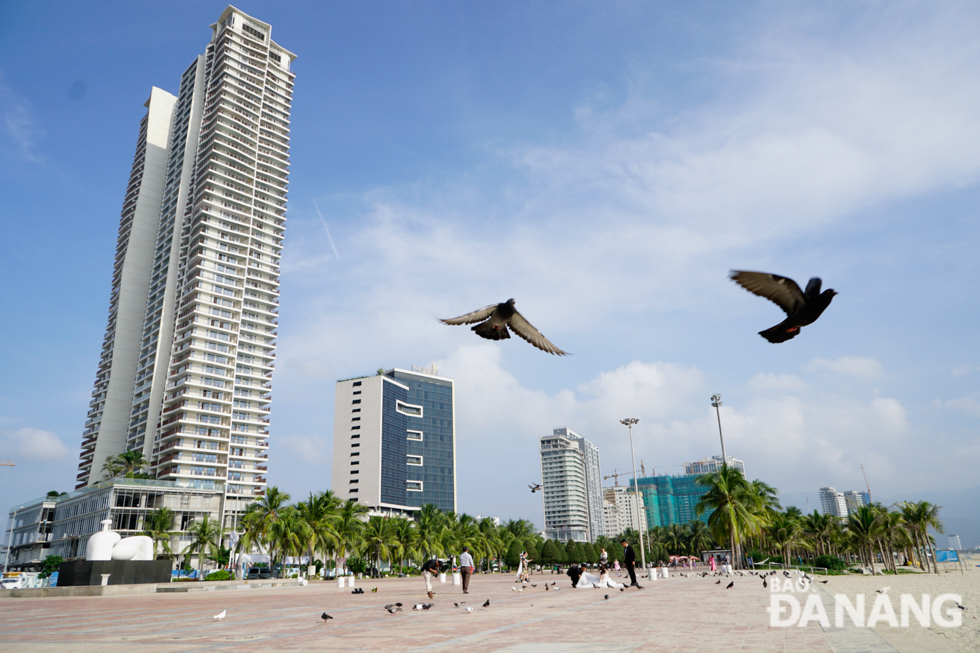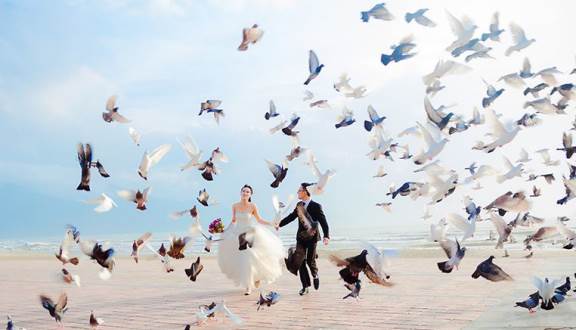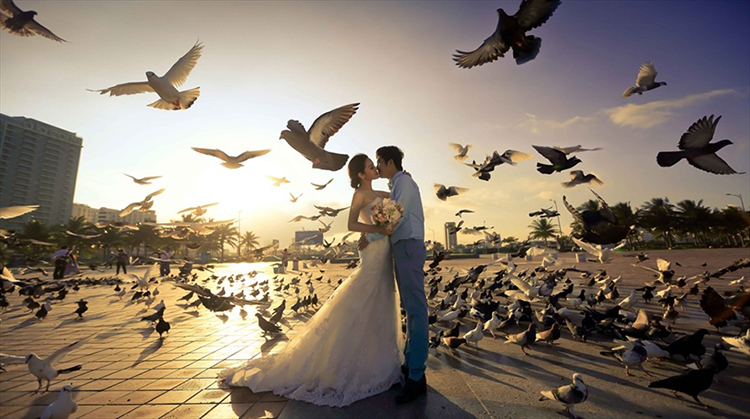 Note: pigeons mostly gather in the early morning and late afternoon. You should care for impeccable timing to have good pictures.
    Address: Intersection between Pham Van Dong and Vo Nguyen Giap, Phuoc My Ward, Son Tra District, Da Nang.
   3. Love Bridge:
   The Love Bridge is definitely a must-visit for couples. The Heart-covered bridge with cute locks on the bridge is a testament to the love of couples who have been here. After attaching the lock to the bridge, couples often drop the key into the Han River wishing their love will always sustainable like a lock will be attached to this bridge forever.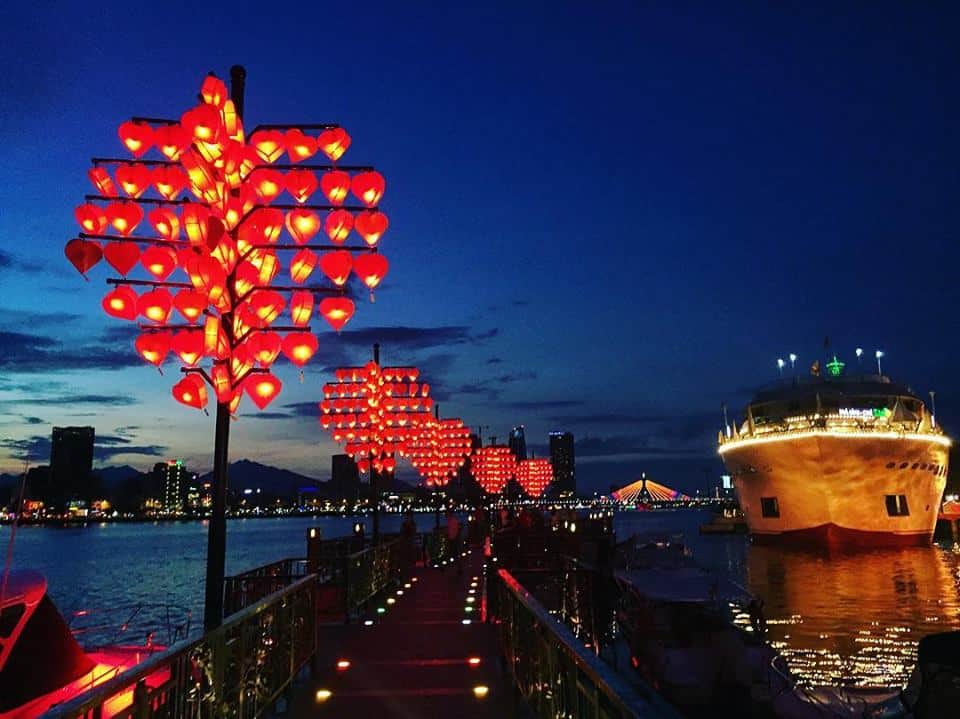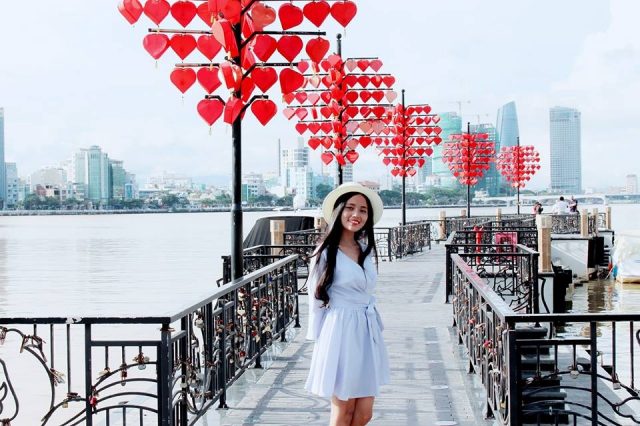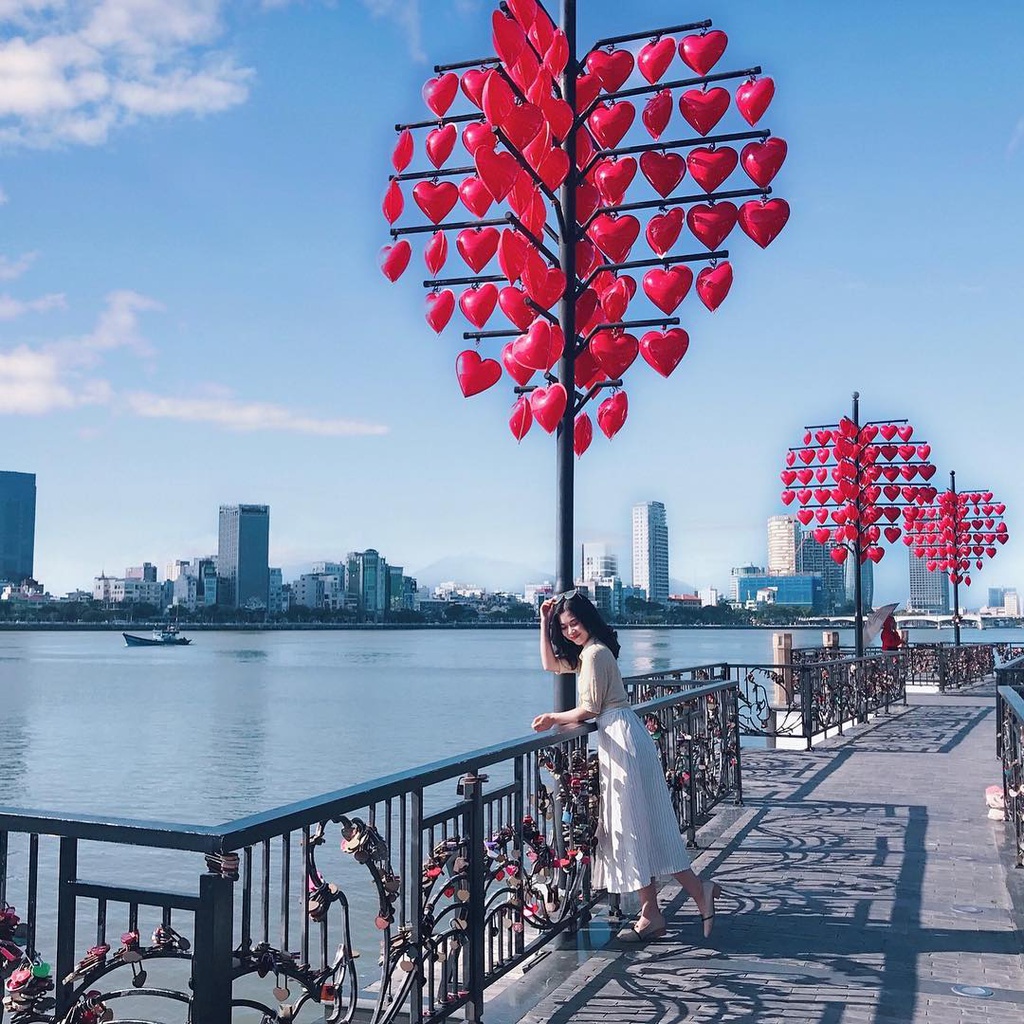 From the love bridge, you can select so many beautiful frames with the view of the Dragon Bridge and sparkling streets across the Han River.
  Address: Located right next to Dragon Bridge, Tran Hung Dao Street, Son Tra District, Da Nang
4. Rooster Church
    The church has Gothic architecture with soaring aloft lines. On the top of the church, at the position of the lightning rod, there is a very unique statue of a gray rooster. Along with the outstanding pink-painted appearance, this place has become a super beautiful background for the check-in photo sets of the young.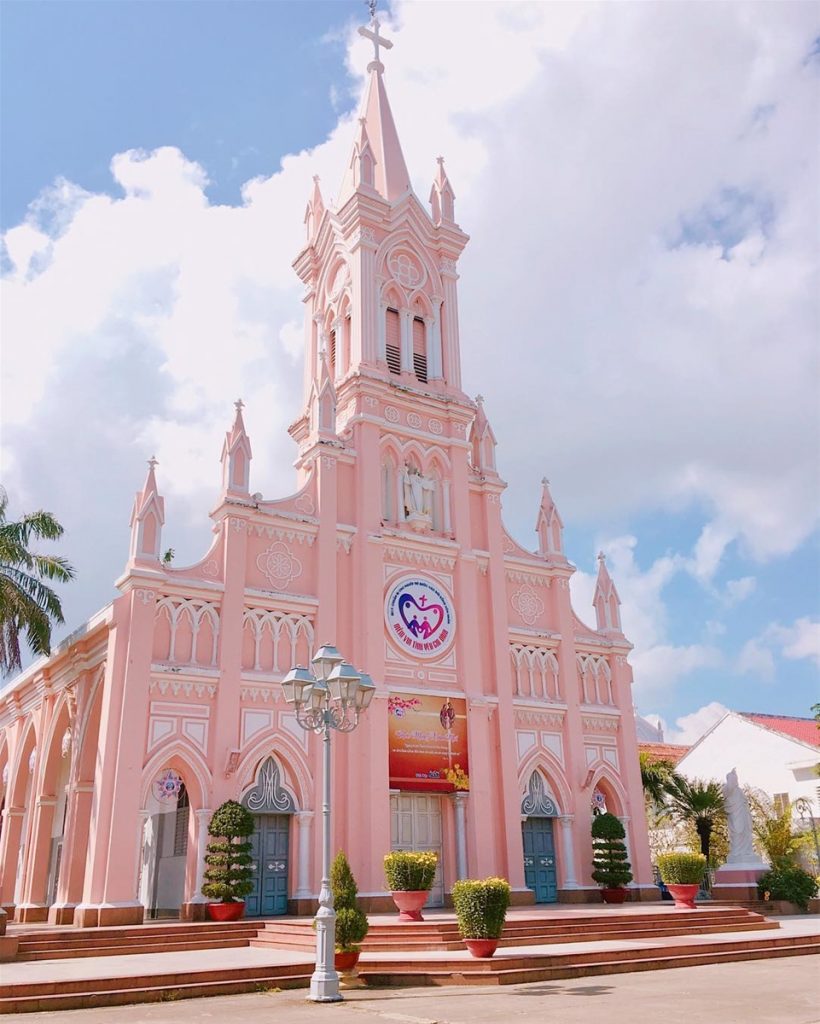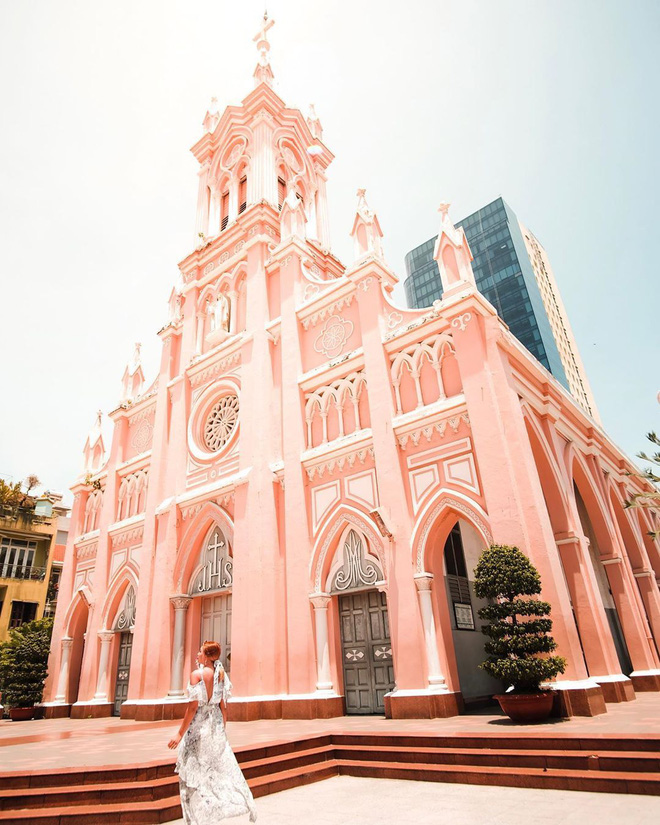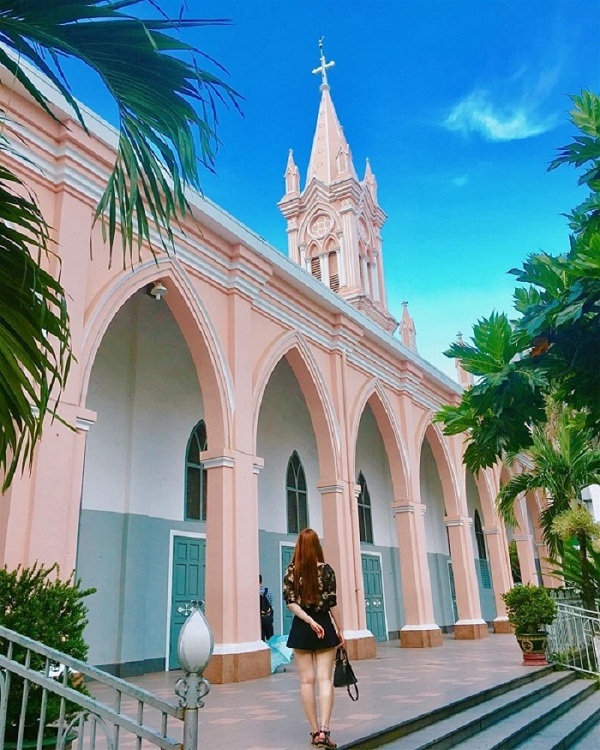 Address: 156 Tran Phu Street, Hai Chau District, Danang
   5. Tien Son Sports Palace
    Tien Son Sports Palace is also known as "Aircraft-Shaped Stadium" by young people. This place is famous for young people because of its super unique architecture, like an "Aircarft" located in the heart of the city.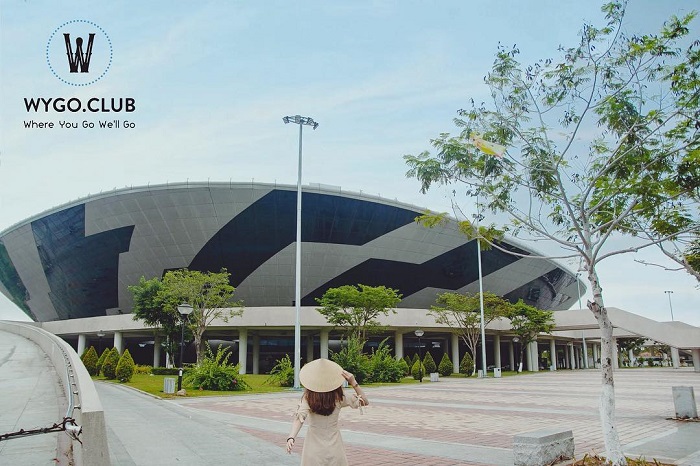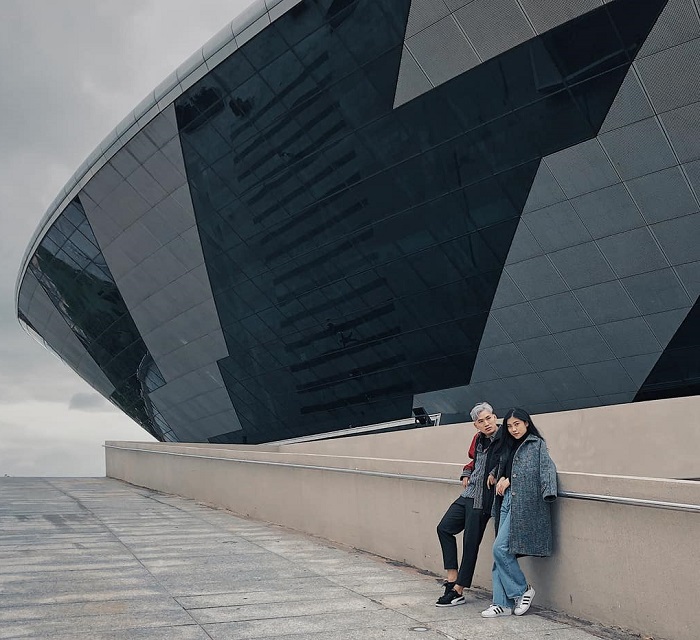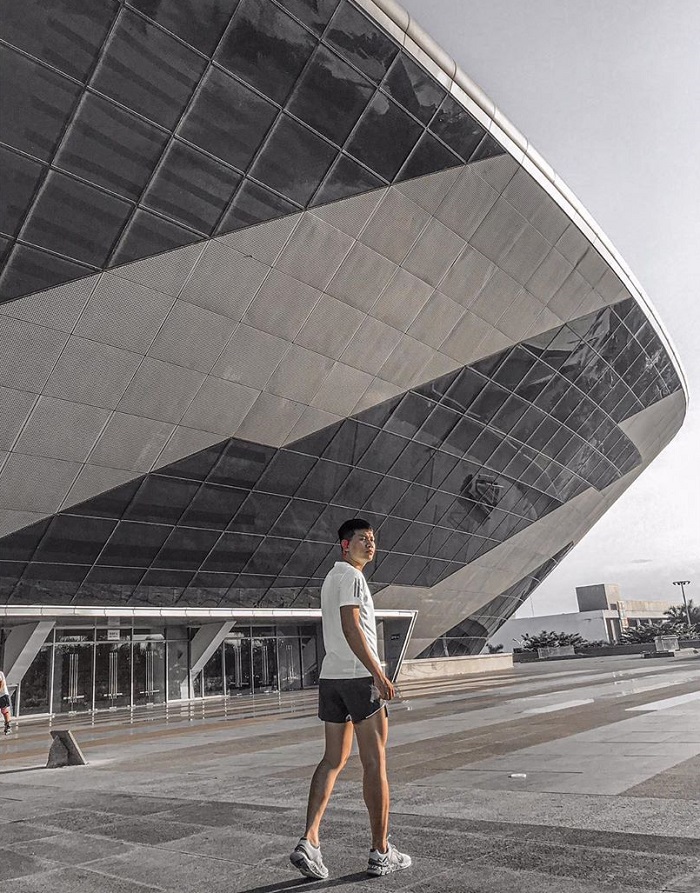 Around the sports palace is also a very large and beautiful space for people to enjoy, take photos and play their favorite games such as cycling, rollerblading, electric bike riding …
  Address: 03 Phan Dang Luu Street, Hai Chau District, Danang
   6. Hoa Trung Lake
    Hoa Trung Lake has a peaceful beauty not only of the meadows far beyond the eye-sight but also the image of the herd of cows and buffalo eating grass every morning and every afternoon.
   The lake is as beautiful as a water-color painting, very suitable for tourists who like camping or taking a canoe, or simply "Deep-acting" photos for themselves on the green pure lake and far-beyond eyesight grass field.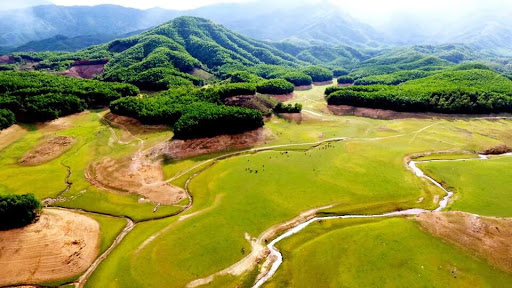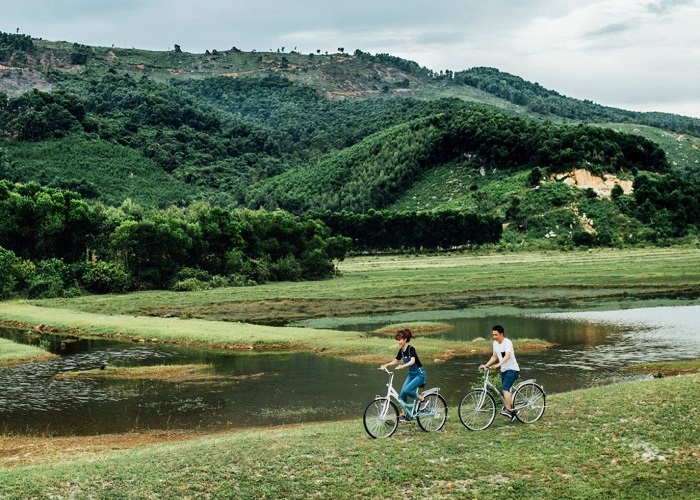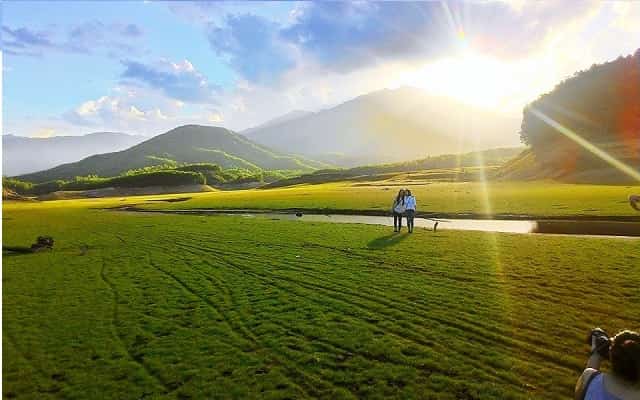 Address: Hoa Trung Lake  is located in Hoa Lien commune, Hoa Vang District (about 20km from Da Nang center)
   7. Cinematic and Picnic area of Da Nang:
   The cinematic field right next to Thuan Phuoc bridge is named Thuan Phuoc Field. This Danang studio, which is impressively bases on a European landscape layout with windmills, old cars, or cute little houses, … offers an ideal place for Danang youngsters and visitors to check-in.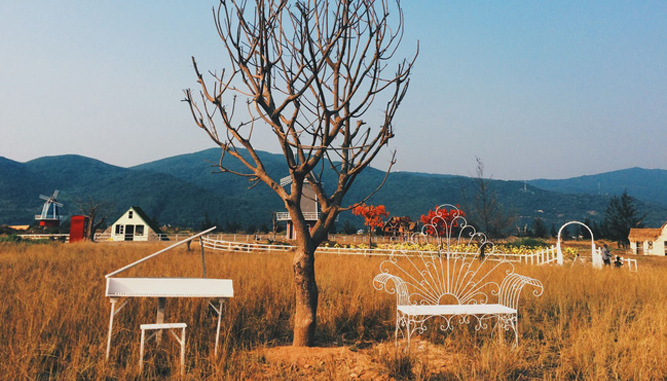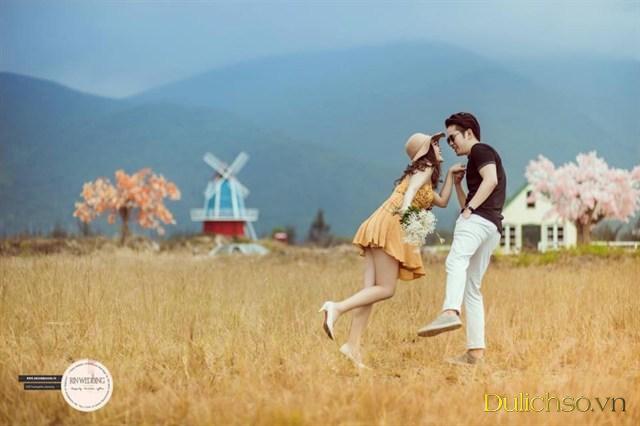 Address: To find Thuan Phuoc Field, you just need to cross Dragon Bridge or Han River Bridge, enter Tran Hung Dao street, go along the Han River. It is at the end of the road.
      Link for the reference: http://diadiemanuong.com/co-gi-hot/du-lich/phat-sot-voi-phim-truong-toan-canh-au-me-hoac-gioi-tre
   8. Son Tra peninsula
   Son Tra peninsula is located about 10km from the center of Da Nang city to the East, is considered the "jewel" of Da Nang tourism. Son Tra peninsula has many beautiful shooting spots that you cannot ignore such as Ban Co Top, Linh Ung Pagoda, Ancient Banyan, Indochinese God-Eyes, Tien Sa Port, Bai But, "Black Rock" zone …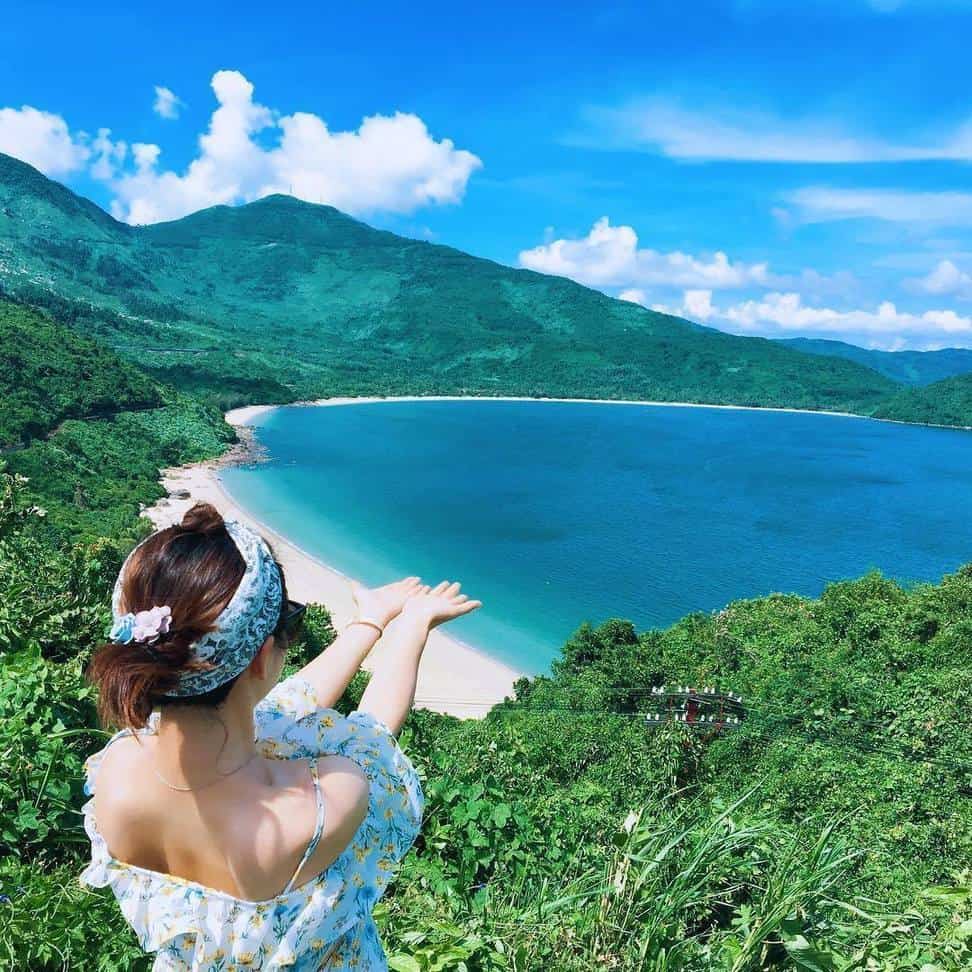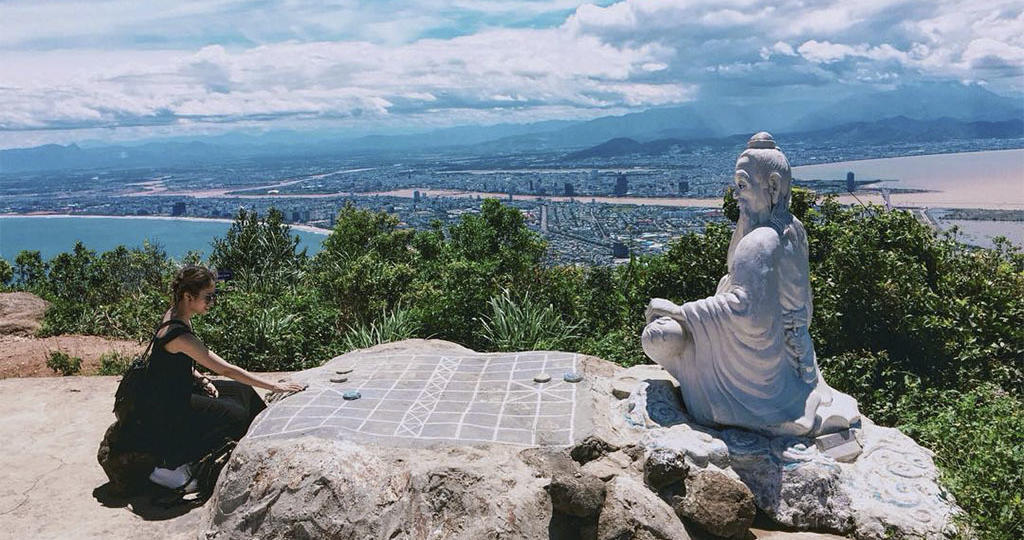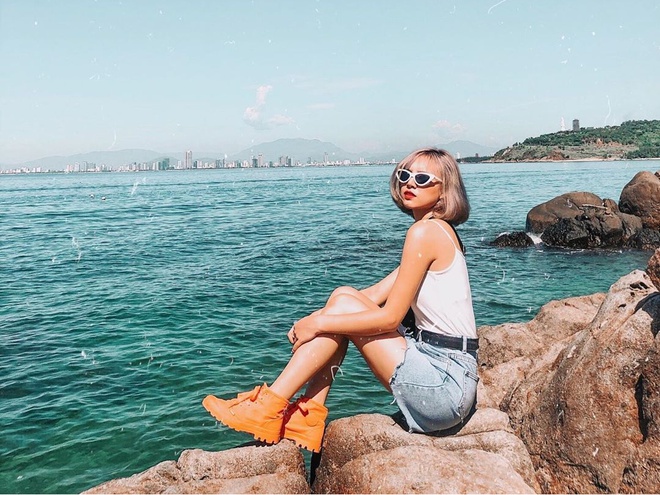 Address: located in Tho Quang Ward, Son Tra District, Danang.
   9. Tien Sa Lighthouse
    Located at an altitude of 233 m above sea level, Tien Sa lighthouse is one of the most beautiful ancient lighthouses in Vietnam, built by the French in the 50s of the twentieth century.
    Because it is painted in two eye-catching and vintage colors ( blue and yellow), this place is considered as one of the wonderful " Deep Acting" spots for young people. Just a white suit, black jeans, or other basic tones is enough for thousands of beautiful check-in photos.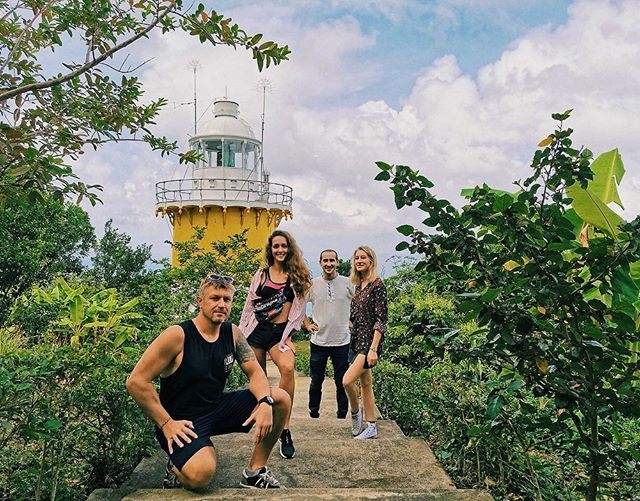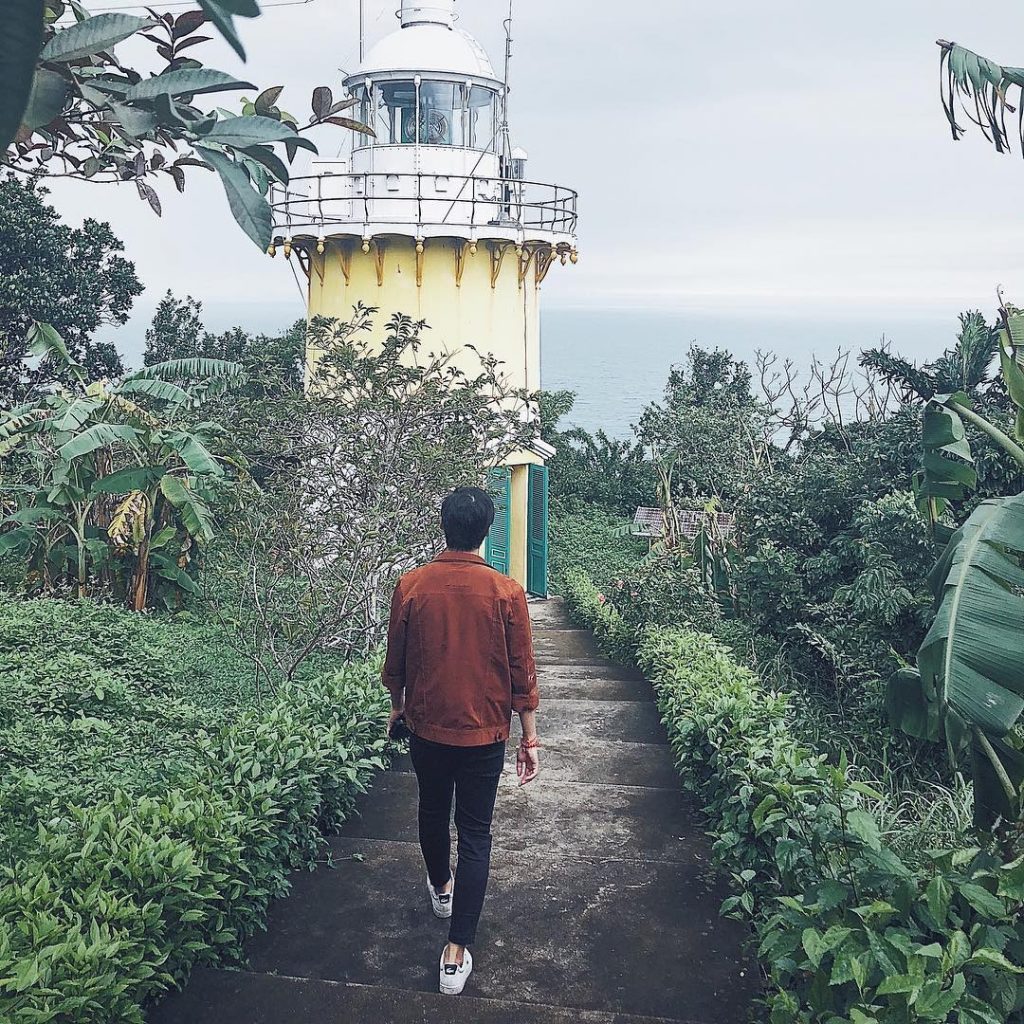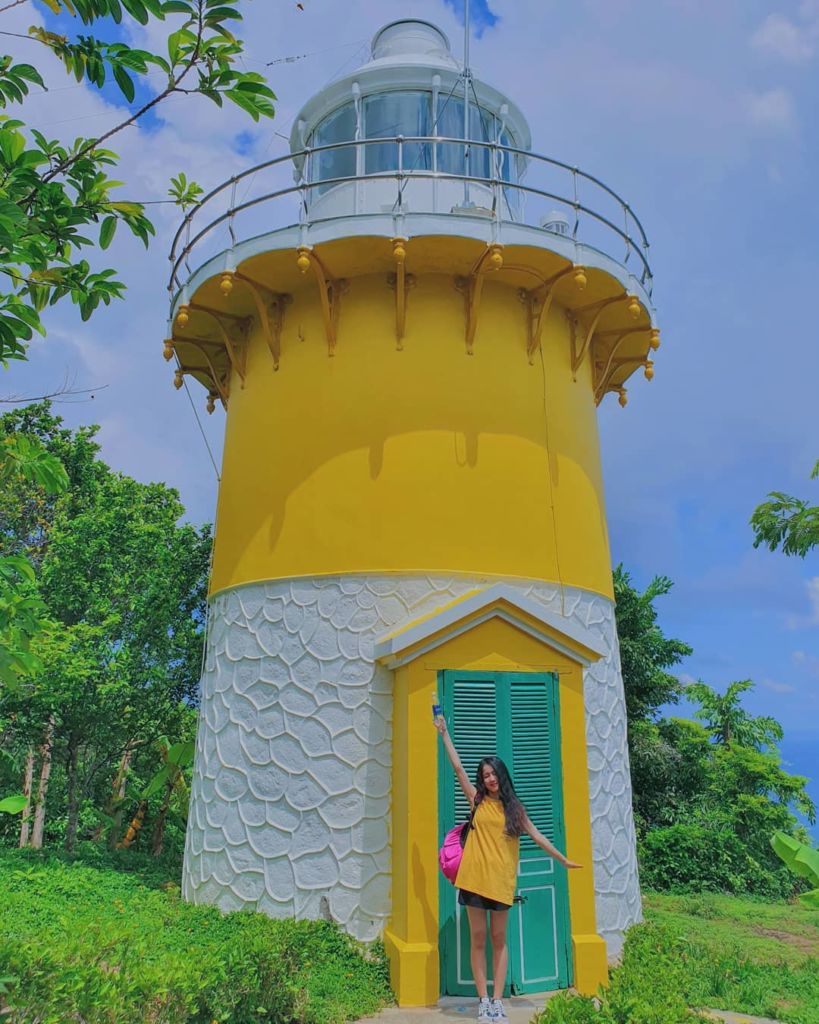 Address: Le Van Duyet, Nai Hien Dong Ward, Son Tra District, Danang
   10. " Green Lake"
      Green Lake is a pristine place, covered by mountains ( ahead) and the sea( behind), the reed bushes growing on the cliffs draws a very breathtaking natural landscape. Watching from Son Tra peninsula to the center of Da Nang, Green Lake is like a giant mirror, reflecting the city airspace.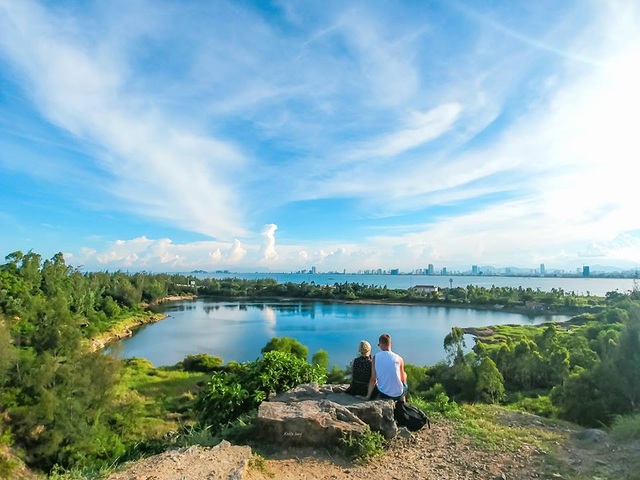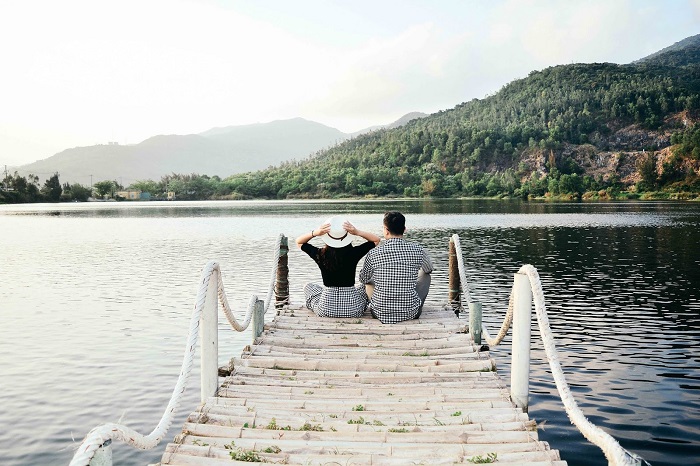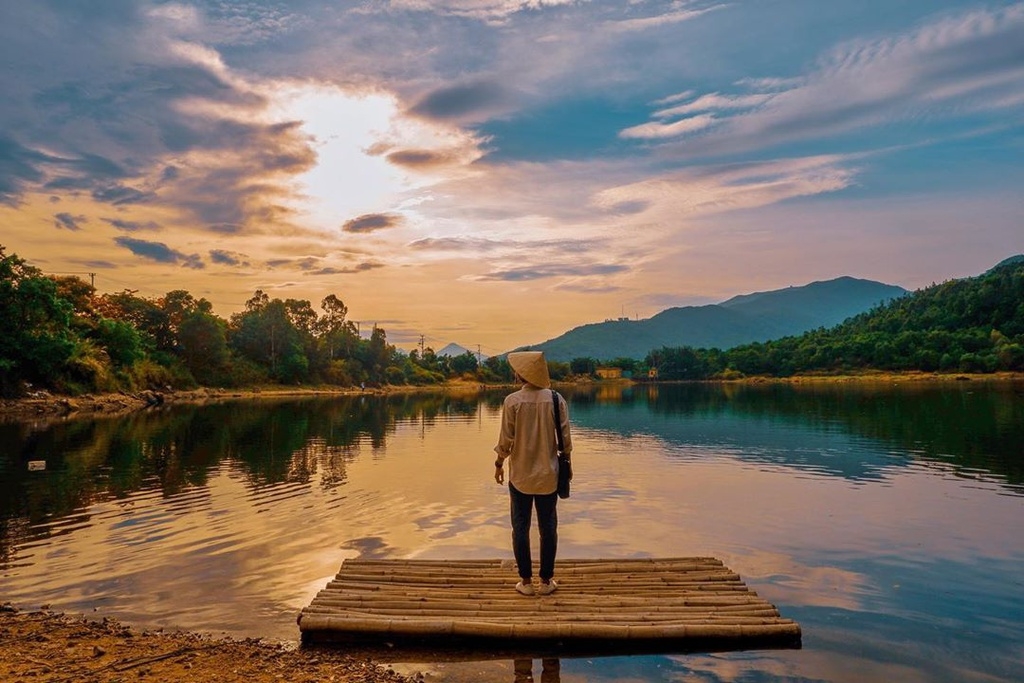 Address: Starting at the city center, moving along the way from Hoang Sa Street to Son Tra peninsular,according to the direction of Linh Ung pagoda we can reach " Green Lake". This place is about 10km to the North East of city center.
   11. Linh Ung Pagoda
     Linh Ung Pagoda is called by the people of Da Nang as "Buddha in the midst of the world" because it is not only a place where Buddha reigns but also a place with rare beauty in the world.
     The story is that in the reign of Emperor Minh Mang (Nguyen Dynasty, nineteenth-century) there was a Buddha statue drifted from somewhere to the sand here. Supposing that it was a good omen, they set up a temple of worship and from there the whole area was tranquil, the fishermen had been peacefully doing their job for a long time. The sandy area where the Buddha statue drifted back, hence, was named Bai But (meaning Buddha-field among the normal living) is also the place where Linh Ung Pagoda is built today. Moreover, Da Nang young people and tourists are really into coming here to take pictures and check-in, so Linh Ung Pagoda can be said to be the No. 1 tourist destination, hot check-in Danang.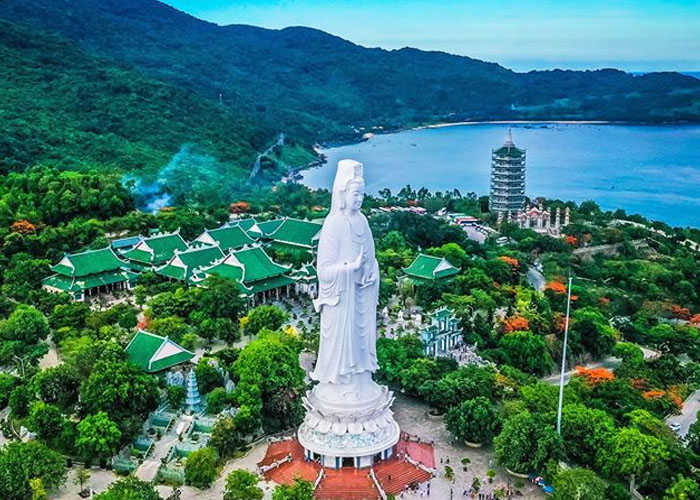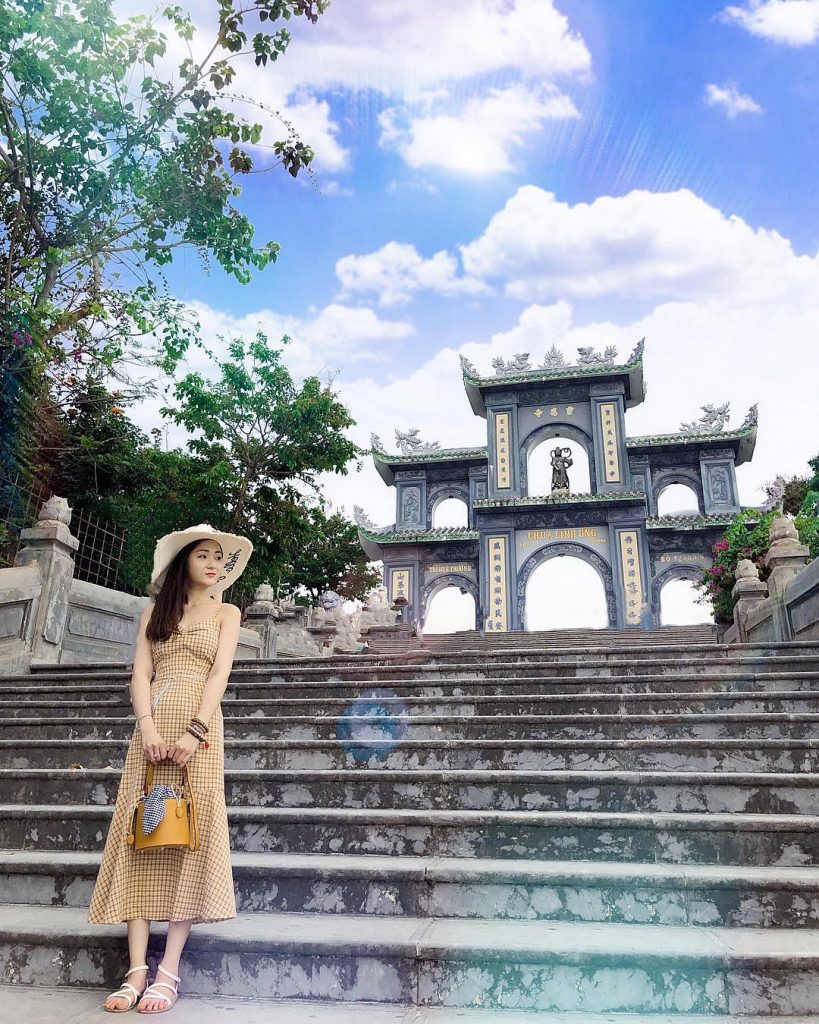 Address: Hoang Sa, Tho Quang Ward, Son Tra District, Danang
   12. Mable Mountain
     The interesting thing about Mable Mountain that other tourist destinations can hardly possess is that after hours of climbing up and down hundreds of steps to visit caves and pagodas, visitors just need to step forward several hundred meters to reach Non-Nuoc beach. Non-Nuoc Beach with soft white sand, clear blue water, gentle waves welcome you to saltwater, relax, and watch the mountains, the immense seaview.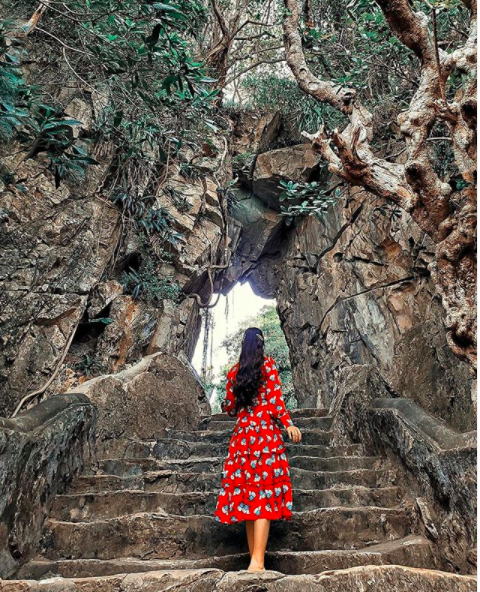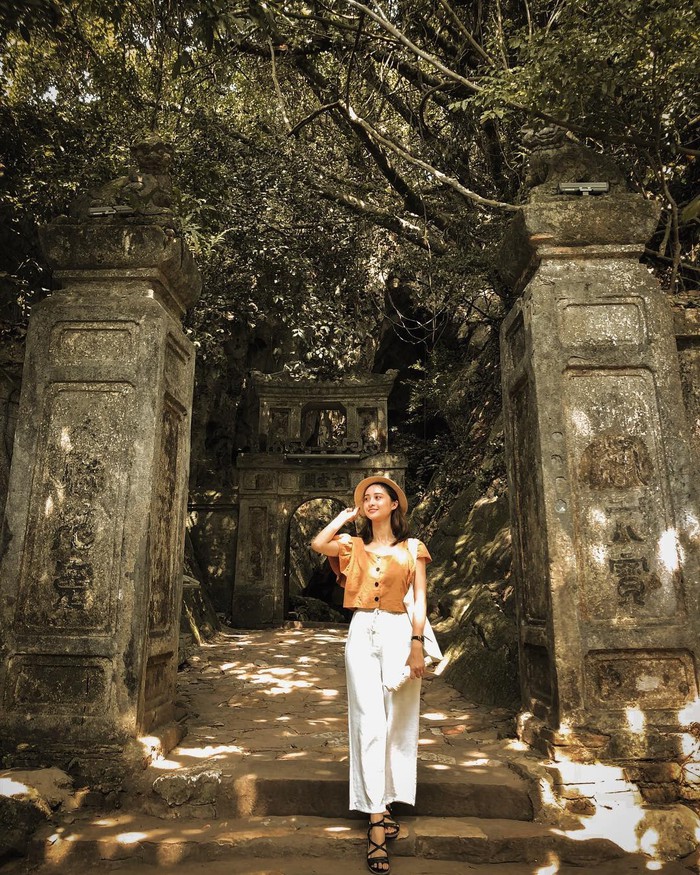 Ngu Hanh Son possesses the converging beauty of a sea, a charming country with deep historical, cultural, and spiritual values. Some places that you cannot miss when visiting Mable Mountain such as Huyen Khong Cave, Am Phu Cave, Van Thong Cave, Tam Thai Pagoda,….
        Address: 81 Huyen Tran Cong Chua, Ngu Hanh Son District, Danang
So you have already had a list of 12 impressive check-in points in Da Nang. What are you waiting for?  Just quickly book tickets and backpack to Da Nang !!!!