Da Nang is not only famous for the sea, bridges,… but also marked with an
interesting unique rustic culinary culture of the Central Coast area. Let's enjoy the specialties of this place with Le Bouton.
1. QUANG NOODLE
When coming to Da Nang, you can not miss the Quang noodle. It is made of very simple ingredients such as shrimp, meat, eggs,…and accompanies with herbs that spread attractive smells. Especially soft noodles are made of rice flour in a way that other places can hardly make. All mixed together to create a very special flavor that makes the most demanding guests also satisfied.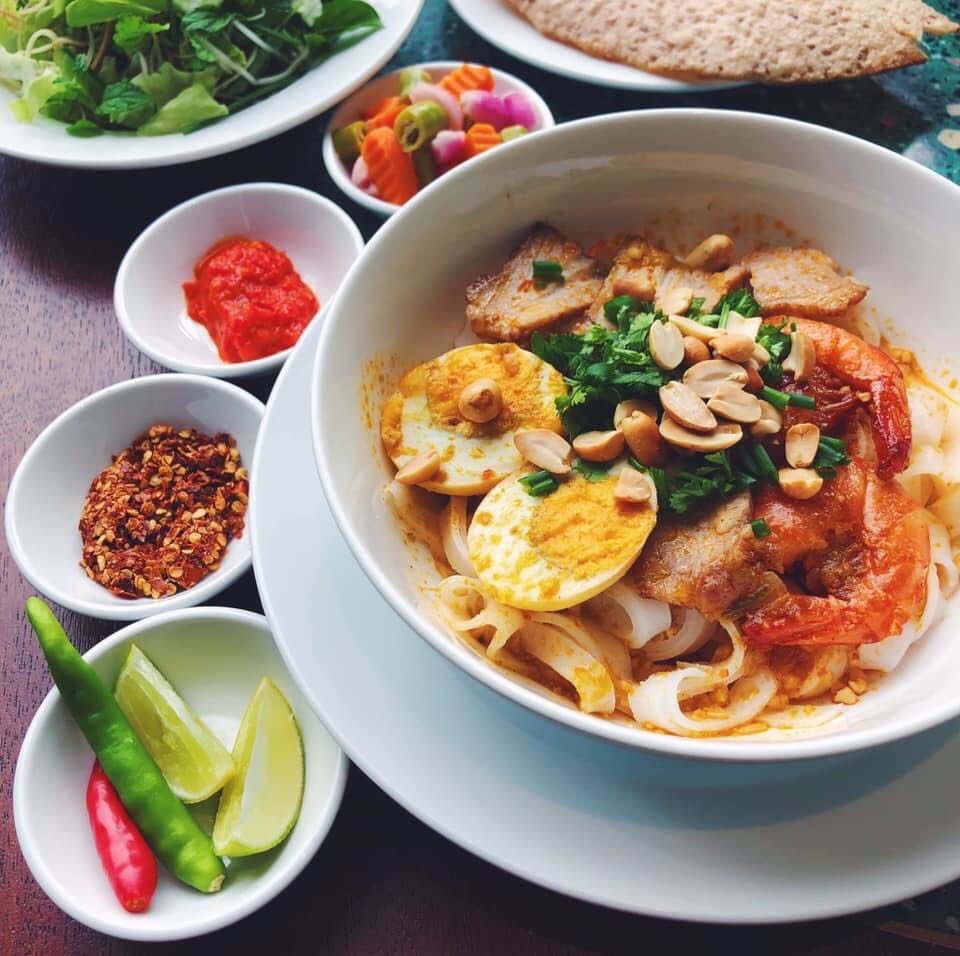 Here are many kinds of Quang noodles with different tastes for you to choose from such as chicken noodles, shrimp noodles, meat noodles, egg noodles, beef noodles, jellyfish noodles, or snakehead fish noodles. The beauty is that each ingredient brings a unique characteristic to Noodles; You must eat all kinds of dishes to enjoy the delicious taste of Quang Da Nang noodles. Noodles are so famous that you can easily find it anywhere in the city of charming bridges. Here are the delicious and famous noodle stores in Da Nang that Le Bouton would like to introduce to you:
  Quang Noodle at 1A Hai Phong street
It is the oldest noodle restaurant in Da Nang, with a strong and delicious taste which is truly the style of traditional Quang noodles. The store has a dainty space suitable for a couple or a small group.
      Price: 25.000đ – 40.000VND/a bowl.
      Address: 1 Hai Phong, Hai Chau district, Da Nang.
Ba Vi Quang noodle is quite old and famous in Da Nang, the delicious soup which is carefully made with many ingredients is the main attraction to the tourists. Despite quite a small space, it is still suitable for a small group of people.
     Price: 30.000 – 50.000 VND/a bowl.
     Address: 166 Le Dinh Duong, Hai Chau District, Da Nang.
Ba Mua noodle is a brand that was recently launched, but its taste and quality are quite delicious. The restaurant is quite large and airy so that it is suitable for guests going in a group.
     Price: 35.000 – 55.000VND/ a bowl.
     Address:
               + 259 Ho Nghinh, Son Tra District, Da Nang.
               + 19 Tran Binh Trong, Hai Chau District, Da Nang.
Besides the mentioned Quang stores, Phu Chiem Quang noodle – named after a place called Phu Chiem, a suburb of Da Nang. The Phu Chiem noodles are often set up on the sidewalk, processed by the people of Phu Chiem. Therefore, the noodle bowl at Phu Chiem still retains the traditional taste of Quang origin noodles "unmistakably. Whoever enjoys it once cannot forget…
      Price: 15.000 – 25.000 VND/a bowl.
      Address: around pavement, near the markets,…
2. SPING ROLLS WITH PORK
Spring rolls with pork is a dish that you can find in many places in Vietnam but the most popular and famous one is still in Da Nang. What makes its name in Da Nang is the rich sauce and the supple spring rolls. The carefully-selected combination of pork belly, fresh herbs, cucumbers, bananas … will definitely lay a strong impression on you when enjoying it.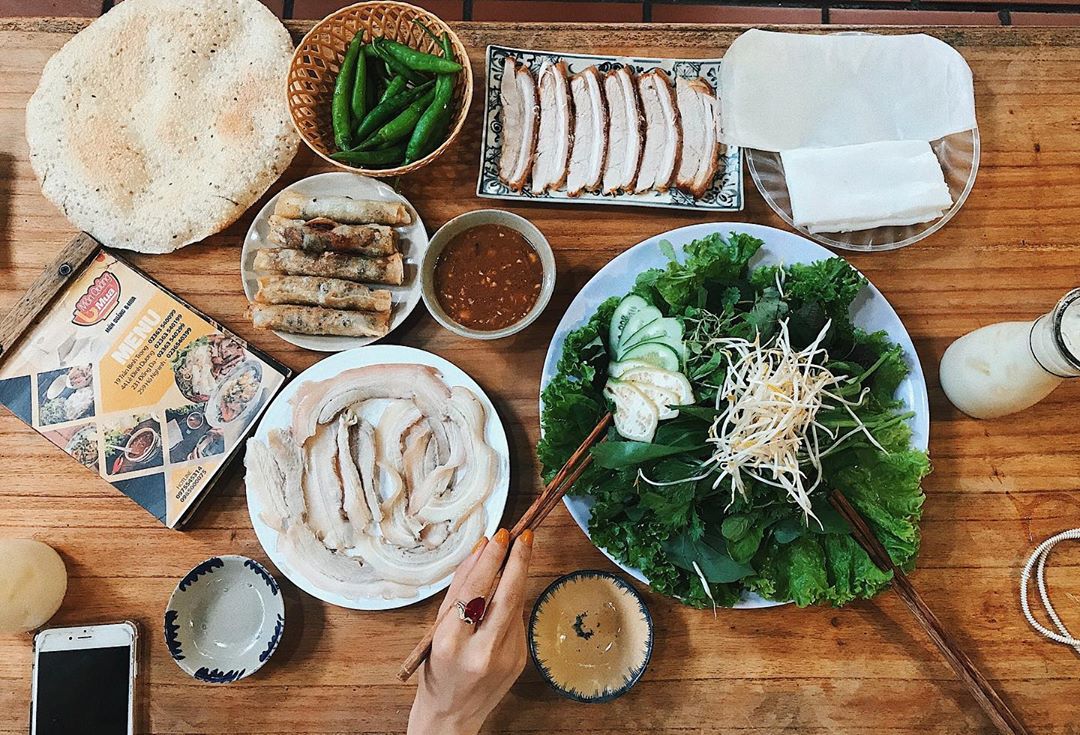 To enjoy the taste of this food like native people in Da Nang, Le Bouton would like to introduce to you the following addresses:
Dai Loc is a district in Quang Nam province, which is famous for agriculture with fresh and delicious products. That is why this Dai Loc spring rolls with pork store has been going to the heart of Da Nang people so easily. The store uses fresh ingredients grown in Dai Loc, the dipping sauce is richly mixed, especially the restaurant has a very attractive dish with scalloped fish.
      Price: 25.000 – 50.000 VND/a dish.
      Address:
+ 82 Trung Nu Vuong, Hai Chau District, Da Nang (a small first-launched store).
+ 76 2/9 street, Hai Chau district, Da Nang (A Roomy new store).
This is a famous brand of Danang specialties and specializes in serving spring rolls with pork. Therefore, if you want a large space, a beautiful view to enjoy Da Nang specialties, Tran is the place to visit. Tran's menu is varied from spring roll with pork,  Quang noodle, Banh Beo, Banh xeo (Fried Spring roll) … The restaurant is luxuriously designed, spacious, .. suitable for a single person or large groups.
      Price: 70.000 – 165.000VND/a dish.
      Address:
                + 04 Le Duan, Hai Chau District, Da Nang.
                + 11 Nguyen Van Linh.
The same to Tran, the brand Ba Mua is famous for its Quang noodles and other Da Nang specialties. Therefore, you can still enjoy spring rolls with pork when visiting the following branches of Ba Mua in Danang:
+ 19-21 Tran Binh Trong, Hai Chau District, Da Nang (first branch).
+ 259 Ho Nghinh, Son Tra District, Da Nang (Near My Khe Beach).
+ 44 Le Dinh Duong, Hai Chau District, Da Nang (in the city center, fancy restaurant).
3. GRILLED FISH NOODLE:
Grilled fish noodle is a popular and famous dish in Da Nang. Unlike Hanoi's dish, Da Nang grilled fish noodle has an extremely rich broth cooked from fresh sea fish such as tuna, mackerel … combined with vegetables such as pumpkin, cabbage. Pineapple, tomato, dried bamboo shoots,…all make a wonderful unique flavor. What are you waiting for? Just try it!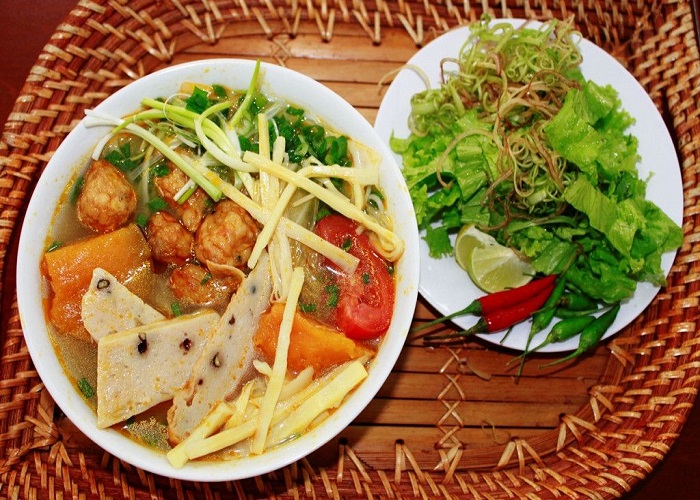 Some traditional grilled fish noodle store in Da Nang:
  Ba Lu Grilled fish noodle
The food stall is located in the heart of the city, with an additionally rich broth, so it attracts many guests. The size is quite small, so it is suitable for couples or small groups.
      Price: 25.000 – 35.000 VND/a bowl.
      Address: 319 Hung Vuong, Hai Chau District, Da Nang.
  Ba Hoa grilled fish noodle
Ba Hoa grilled fish noodle is one of the oldest grilled fish noodles in Da Nang. A bowl of noodle here has all kinds of fish cakes: sliced, round, fried, steamed … Ba Hoa's noodle attractively has its own taste and affordable prices.
      Price: 25.000 – 40.000VND/a bowl.
      Address: 27 Le Hong Phong, Hai Chau District, Da Nang.
  Ong Ta grilled fish noodle
Ong Ta has become one of the familiar fish noodle brands of tourists in Da Nang thanks to its strong taste of the Central Coast of Vietnam. It is a spacious and clean space. The typical broth meticulously prepared contains its own secrets that very few places have.
      Price: 25.000 – 60.000 VND/a bowl.
      Address: 113A Nguyen Chi Thanh, Hai Chau District, Da Nang.
4. BANH XEO (PANCAKE):
Banh Xeo is a typical dish of the Central Coast and the South of Viet Nam and originated from Banh Xeo we also have many variations of this dish such as Banh Khoai and Banh Can in Hue, Da Lat, Binh Dinh. On the immigration to the South of Vietnamese ancestors, Banh Xeo was brought to Da Nang and became one of the most delicious dishes with adjusted taste and size to suit Da Nang people.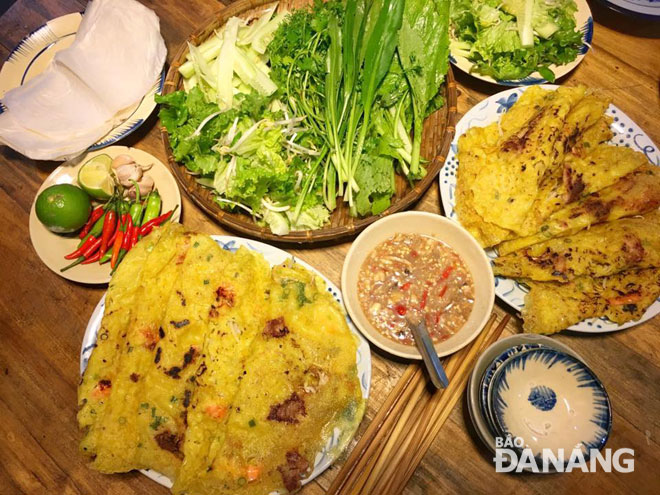 Compared with Banh Xeo in the South, Banh Xeo of Da Nang has a special feature: the size of the cake is smaller, approximately like the size of a medium plate; Made from Quang Nam's qualified rice, the flour is mixed with liquid to make it thick enough to give a crispy outer shape, soft inside. Danang Banh Xeo will be served with thin Banh Trang (flat rounded-shape cake made of rice), fresh vegetables, and sweet and sour fish sauce.
Here are some delicious Banh Xeo Store in Da Nang that Le Bouton staff have tried and want to introduce to you:
Coming to Banh Xeo in Da Nang, you cannot miss Ba Duong – the oldest Banh Xeo store in Da Nang. What makes this so famous is that the sauce is specially made to create a very special taste, the Banh Xeo are always crunchy, soft, and fragrant with rice flour inside, the ingredients of shrimp and meat are richly marinated. And more specifically, thanks to the popularity of Ba Duong, many tourists have visited the 'K280' alley on Hoang Dieu Street, and since then, many other Banh Xeo stores have launched on the alley. this. This small alley is more bustling than ever and nicknamed "Banh Xeo Alley" is very interesting. In Da Nang, you must definitely visit Banh Xeo Alley to try Ba Duong's Banh Xeo.
      Price: 16.000 VND/a slide. In addition, the shop also serves "Nem Lui"(a kind of food), grilled meat noodle which is also very delicious.
      Address: K280/23 Hoang Dieu, Hai Chau District, Da Nang.
If you want to visit a common Banh Xeo store to enjoy this rustic dish in the way that Da Nang people usually eat, Ha Diep Banh Xeo Store is the ideal choice.
      Price: 10.000VND/slide.
      Address: 302 Pham Cu Luong, Son Tra District, Da Nang.
Nam Hien Banh Xeo is located on a small but fancy street in Da Nang. The shop is famous for shrimp Banh Xeo and other specialties such as spring rolls, grilled pork noodle, Banh Hoi (a kind of cake) … With affordable prices, professional service, and airy, polite space in the store. Hien has become the "must-visited" of many local guests.
      Price: 7.000VND/slide.  
      Address: 46 Phan Thanh, Thanh Khe District, Da Nang.
5. DA NANG SEAFOOD:
Da Nang is a coastal city, so it is obvious that seafood dishes will definitely be in the top worth-trying dishes because of its freshness. With a variety of seafood dishes: steamed chips, grilled oysters with onion fat, or grilled stingray…. Is that true that you really desire to visit Da Nang after reading this?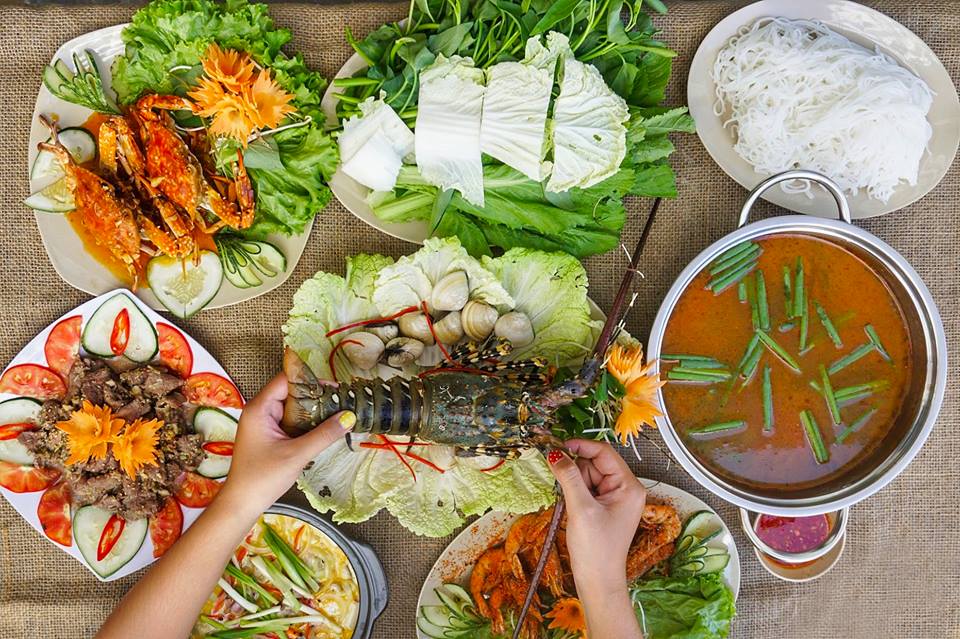 Here is a list of delicious seafood restaurants suitable for tourists that Le Bouton would like to recommend:
Located right on Vo Nguyen Giap beach, about 5 minutes walk from Le Bouton, Be Man is an indispensable place on the culinary list of Da Nang. The restaurant has a large area with its front faces the beach, so in the summer it is very cool, the seafood is 100% fresh that is why it attracts many tourists and indigenous people.
      Average Price/a dish: 100.000– 1.500.000 VND/ a dish.
      Address:14 Plot, Hoang Sa, Sơn Tra District, Da Nang.
  "Fish catching" restaurant
This restaurant is famous among locals because it has a team specializing in fishing and catching fresh seafood in Da Nang beach. Therefore, the seafood that is caught for processing during the day is not frozen, so it tastes very fresh. It is worth a try!
Average Price/a dish: 90.000đ – 1.000.000 VND/a dish.
Address: 89 Ho Nghinh, Sơn Tra District, Da Nang.
Nam Dinh Seafood is familiar to Da Nang people, especially the youngsters. The reason why this restaurant attracts many tourists and local people is fresh seafood with quite affordable prices. The bustling atmosphere is very suitable for meeting with groups of friends.
      Average Price/a dish: 60.000 VND/a dish.
      Address: 139/59/38, 10 Tran Quang Khai, Tho Quang, Son Tra District, Da Nang.
Are you crazy about the list mentioned above? Quickly book your flight and contact Le Bouton to enjoy Danang's cuisine more and more!